Its all about the great outdoors at Fairmont Hot Springs
Visitors can explore more than 50 hiking trails on the resort's property
by Lisa Crane —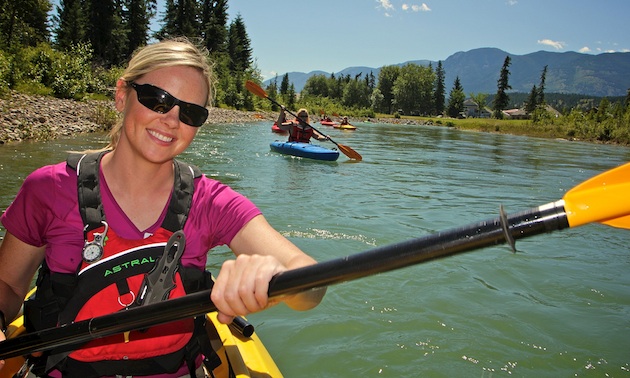 Fairmont Hot Springs Resort is home to BC Rockies Adventures, a guiding outfit for tourists in the area.
Jocelyn MacGregor is lead guide of BC Rockies Adventures, and said that Fairmont's culture is all about the outdoors. MacGregor is a naturalist as well as guide, and is familiar with the ecology and geology of the area—which stands her in good stead when she is showing people around.
She said that although Fairmont is in the mountains, the valley is sunny and wide, which allows it to be a recreational mecca.
"Recreation is unsurpassed. It is so undeveloped," said MacGregor, "and the entire area is so accessible."
She said that right outside the resort's front door are what is known as the Indian baths. The origin of this name is unknown. Natural hot spring water drips into tubs in the very old stone house, which stands without doors and windows. There are bath-like dugouts in the calcium deposits near the house. It is said that the pools were used by settlers in the area, and MacGregor said that the famous explorer David Thompson and naturalist Mary Schaffer used the springs. It is definitely a unique experience to use these tubs and think about those who have sat there before while enjoying breathtaking views of the valley.
MacGregor said that visitors can explore more than 50 hiking trails on the resort's property.
"An old stage-coach house, the root of the resort as we know it today, is still standing," said MacGregor. "Hikers would walk from the building to the natural springs, and in winter they would sit underneath spruce boughs to hold the heat. These are fascinating stories."
Macgregor said that the wife of Canada's Prime Minister Diefenbaker was said to have been cured of rheumatoid arthritis in these baths.
"A neat story," said MacGregor.