Fresh food from scratch
From Scratch, a Mountain Kitchen, is on track to become a Canadian fresh-food icon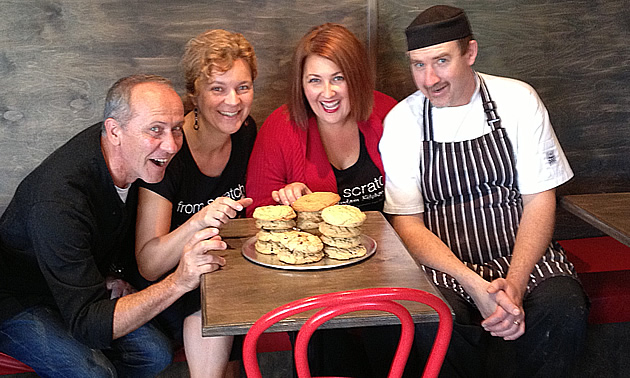 Fairmont Hot Springs, B.C., seems an unlikely place to find a food outlet on the verge of achieving national distribution licensing, but the local population and visitors to the Columbia Valley have discovered From Scratch, a Mountain Kitchen, and are begging for a wider distribution of the restaurant's products.
Go big
The four business partners at From Scratch—which opened in April 2012—have ambitious plans to market a line of wholesale food products, and are in the process of completing the necessary applications for provincial and Canada-wide distribution.
"We're working on getting approvals from the Canadian Food Inspection Agency," said Lara McCormack, one of the partners at From Scratch. "That means all of our food has to be tested by an outside scientific lab, and all of the labels have to be approved."
The restaurant seats 30 indoors, with a patio that seats another 20. It also has a grab-and-go retail section where prepared meals and meal components are available—ideal for busy people and RVers.
"Summer is our high season, and we're hoping that our current retail line will keep us busy enough to survive the winter and spring," said McCormack.
The partners
Each partner has a specific strength and a tongue-in-cheek title to go with it: McCormack is "Marketing Maven"; her husband, chef Adrian McCormack, is "Engineer of Fabulous Food"; business-oriented Holly Brockmeyer is "Details Diva" and Brockmeyer's super-salesman husband, Norbert Kleiber, is "Director of Schmoozing."
"Adrian and I have over 20 years of restaurant experience," said McCormack, "and Holly and Norbert have over 20 years of business experience, so we're a good match."
The concept
"We have an open-kitchen concept so the staff can interact with the customers, and everyone loves that," said Brockmeyer. "Our philosophy is that everything is better when it's made from scratch, with great ingredients. Food is a big part of people's holiday experience, and while we can't guarantee to make everyone happy, we're doing pretty well."
Brockmeyer added that the From Scratch menu includes basic dishes like ribs and pizza, but also offers the unexpected—lamb shank, chicken korma and special features like duck confit. Wines—including fine wines—are available as well.
Online reviews from the public have been plentiful and full of superlatives, and the numbers of customers coming in the door have borne out the reviews.
"We're also getting into outside catering and cooking classes," said McCormack, "and we're overseeing the hot lunch program at Windermere Elementary School."
Since opening for business just over a year ago, From Scratch, a Mountain Kitchen, has settled solidly into the lead position among Columbia Valley restaurants. It won the Columbia Valley Chamber of Commerce Business Excellence Award for Best Food and Beverage in 2013, and has twice topped the list of restaurant favourites among readers of Kootenay Business magazine.