Poised for the big time
Multiple musical endeavours keep Elkord rocker John Paul Smith busy
by Glynis Fediuk —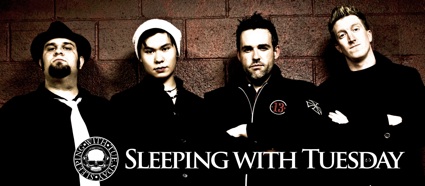 Looking for an East Kootenay musical success story? Look no further than Elkford's John Paul Smith. Smith is the vocalist for rock band Sleeping With Tuesday and the John Paul Smith Trio, as well as the owner of a recording studio in Lethbridge, Alberta. Though he spends two or three days per week on the road touring, he still enjoys living in Elkford.
"I have always felt better at home, whether it's Elkford, Fernie or Nelson," said Smith. "For me, Elkford is really easy to tour out of, because it's sort of central to Calgary or Lethbridge or Vancouver."
Sleeping With Tuesday is releasing its second LP, Shuffle, in August. Single Fa-Fa-Phone reached no. 6 on the Top 40 charts. However, Smith said that his greatest musical accomplishment has simply been finding happiness and being able to support his wife and children by doing something he loves.
"It's been a hard road, with a lot of ups and downs," he said. "The biggest challenge is to financially stay with it. There were times when I really had to consider what I was doing, but I don't regret anything. I have a family and I try to keep them happy and healthy. Being able to support a family playing my guitar is very nice."
To take in a little of the Elkford music scene, stop in at Sneaky's Pub, renowned for its excellent live music.