Come for the recreation
Summer in southeastern Saskatchewan promises active fun
by Joni Krats —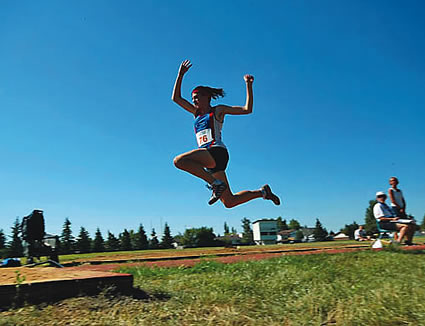 Saskatchewan is not a highly populated province, yet even its small cities—like Yorkton, Weyburn, Melville and Estevan—all have excellent infrastructure for sports. Yorkton has great golf facilities—Deer Park Golf Course and York Lake Golf and Country Club. Weyburn has a ball diamond, Tom Laing Park, that was built in 1988 for the Canadian Junior Baseball Championships.
Lorne Lasuita, Saskatchewan's provincial games consultant, is an expert on sports facilities in Saskatchewan and he considers sport to be a great draw to his province.
"(Sports provide) an opportunity for visitors to get to know our cities," said Lasuita, "including the great camping and recreation we have in the surrounding areas."
Speaking of camping, one of the province's first provincial parks, Moose Mountain, has been attracting campers and recreationists for seven decades. Moose Mountain Provincial Park, located in the southeast of the province, offers visitors everything from fully serviced RV sites to wilderness tenting opportunities. Drinking water, hot showers and complimentary firewood are available too.
Once you settle in, get ready to have fun: check out the waterslides, golf, minigolf, fishing, maintained hiking trails, horseback riding and concession services.