The hidden gem of the Sonoran Desert
Discover the Arizona-Sonora Desert Museum in Tucson, Arizona, and experience the captivating world of the desert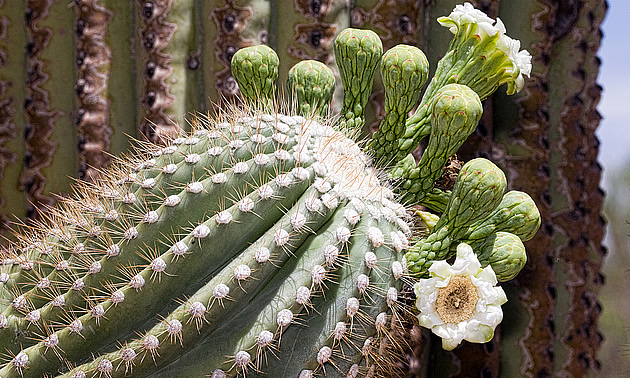 The Arizona-Sonora Desert Museum provides you with a rewarding, dynamic experience. Located in Tucson, Arizona, it is one of the nation's most acclaimed natural history museums. Check out the facility's world-renowned zoo, botanical gardens and art gallery, all in one place. The Arizona-Sonora Desert Museum is what many consider to be a hidden gem. A great variety of habitats discovered in the Sonoran Desert—including grasslands and mountain woodland habitats—are well represented in the gardens and in the wildlife.
"When most people think of the desert, they think of a hot, dry, desert wasteland," said Rosemary Prawdzik, director of marketing for the museum. "Nothing could be further from the truth in the Sonoran Desert. It mesmerizes visitors with its greenness and the variety of plants and animals that live in it."
Teeming with life
Within the museum grounds, you will see more than 300 animal species and 1,200 kinds of plants. There are almost three kilometres of paths traversing 21 acres of beautiful desert. In comparison to other North American deserts, the Sonoran Desert is quite lush due to bi-seasonal rainfall. During the winter months, storms from the north Pacific bring in gentle rain, whereas during the summer months, monsoon rains from the Gulf of California bring surges of wet tropical air and violent thunderstorms.
"Two particular plant forms visually dominate the landscape: legume trees and columnar cacti," said Prawdzik. "Saguaro cacti and palo verde trees are prime examples."
Another cool aspect
The Arizona-Sonora Desert Museum showcases these exquisite ecosystems, making this a must-see on your travel list. There is more to the desert than simply wildlife and plants. In addition to the typical desert exhibits, the Arizona-Sonora Desert Museum is proud to present the Earth Sciences Centre, constructed to replicate a natural cave complete with stalactites and stalagmites.
"You'll learn the geology of the region and view one of the world's most comprehensive regional mineral collections," Prawdzik said.
The museum has gained a worldwide reputation in the scientific community as an institution committed to researching and protecting the land, plants and animals of the Sonoran Desert region.
Celebrating water
One of the most important elements in the desert environment is water. The staff at the Arizona-Sonora Desert Museum are excited to announce the museum's upcoming exhibition Rivers to the Sea, which features both freshwater and saltwater aquatic life. The exhibit will open in December 2012.
"An aquarium in the desert you ask?" said Prawdzik. "Yes! The Sonoran Desert story wouldn't be complete without acknowledging the importance of water to the region."
About 85 per cent of the Arizona-Sonora Desert Museum is outside and 15 per cent is indoors, so be prepared to bring comfy walking shoes and appropriate clothing. Do not forget to bring water to ensure you are fully hydrated as well.