Romance is no mirage in this Phoenix-area destination
El Mirage, Arizona, is ideal for a couples' getaway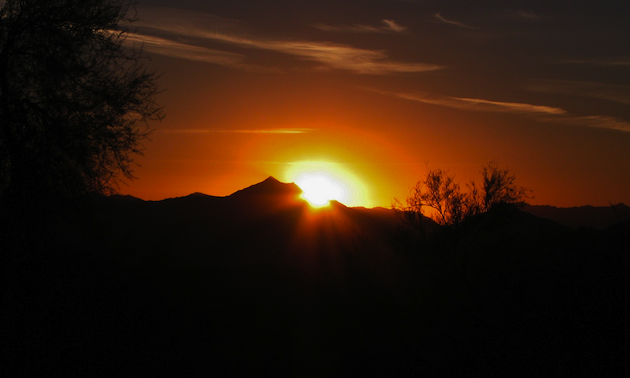 Amidst the rugged lands of the Arizona desert lies El Mirage, a place of simple beauty where couples can go to rediscover the simple pleasures of life. Whether it's a picnic or a day in the sun, a drive to see the view from the top of a mountain or a relaxing soak in naturally occurring hot springs, even the simplest things are better when shared with someone you love.
Lake Pleasant Boat Tours
Less than an hour's drive from El Mirage, Lake Pleasant is surrounded by mountains and typical desert vegetation. A boat tour around the lake will allow you to see some of its hidden charms. Bring your own boat, rent one from the marina, jump aboard a tour offered by Agua Fria Boat Company or charter the Oberon for your own private romantic excursion by sunset. You'll find a day spent out on the water is the best way to enjoy Arizona's incredible heat in a really cool way.
While on board one of Agua Fria's tours, you'll have an opportunity to view the flora and fauna that surround the lake or see some of the desert wildlife—including wild burros—that venture down for a drink. Drop a line and fish directly off the boat or jump overboard into the incredibly brisk waters for a refreshing and invigorating swim. Guides at Agua Fria have extensive knowledge about the lake, its history and its natural wonders.
Rio Mirage Cafe y Cantina
An Arizona trip would not be complete without trying an authentic Mexican restaurant. Rio Mirage Cafe y Cantina is one of the best. People line up around the block to get a taste of the service, the atmosphere and most of all the food at this restaurant near Litchfield, Arizona. Just be sure to ask to be seated in one of the areas away from the main dining room for a quieter dinner. Try some fish tacos or the green chilli plate made with fresh tortillas hand-tossed on site—and share one of Rio Mirage's jumbo 32-ounce margaritas with your sweetheart. If you've still got room, definitely finish off the experience with a taste of fried ice cream.
What trip to a Mexican restaurant would be complete without an authentic mariachi band to entertain you? If you time your visit just right, you can enjoy the sounds of a mariachi band on Thursday nights. Great food, great service and great entertainment all make for a perfect date night.
South Mountain Park
Overlooking a spectacular vista has to be at the top of any couple's holiday getaway, and at South Mountain Park you'll have the opportunity to do just that. Considered the largest municipal park in the country at over 16,000 acres, South Mountain Park offers anything and everything for the active outdoor enthusiast. At the top of the list—right next to mountain biking and horseback riding—is hiking. Whether you're an experienced hiker looking for the challenge of climbing from the bottom up to the peak along one of many rocky trails or you'd rather drive up the twisty two-lane road and choose one of the flatter, easier trails to hike from that point, there are trails for every level of experience.
Once at the top, you'll find the view of the city of Phoenix at Dobbins Point simply lovely. A stunning viewpoint by day, it's magical by night as you watch the sun go down and the lights of the city go up. The magic only increases when the panorama is viewed with your best gal or guy by your side.
Hot Air Expeditions
If you plan on getting away from it all together, you might as well really get away—up, up and away in a beautiful balloon. At Hot Air Expeditions you'll have a chance to soar with the eagles and share an experience that tops most adventurers' bucket lists. Enjoy an early morning flight or an early evening sunset flight. Both are piloted by experienced crews who are only too happy to share the history of ballooning with newcomers and give you a chance to view the desert in a way few ever get to.
What awaits at the end of your flight is just as exciting: for those on the morning flight, a breakfast of chocolate croissants, quiche, cheese and champagne (served by itself or with orange juice to make a mimosa) is a wonderful way to toast to happy landings after reciting the balloonist's creed. For those who take the sunset flight cruise, an equally delightful champagne sampling awaits, this time served with a variety of appetizers. It's the perfect end to a beautiful experience and one neither one of you will forget anytime soon.
El Dorado Hot Springs
Located 40 miles west of El Mirage, El Dorado Hot Springs are restful, relaxing and rustic. The springs are enclosed in above-ground tubs and reach temperatures of 107 degrees, with a pH level that makes the water like liquid silk. While there are clothing-optional private soaking areas for four to six people and others for one or two people, there are also semi-public areas that follow a nudists' creed that see you enter the tubs the way Mother Nature intended. Far from fancy, with a price tag that reflects its rustic charm, the Sunset Area is a private soaking tub within a wooden fence complete with shade cloth, lounge chairs, shower, firepit—and best of all, an open view of the desert and Saddle Mountain. If you're looking for a place to unwind and recharge as a couple, El Dorado has what you're looking for.