A birder's paradise in the desert
One of the top bird watching spots in North America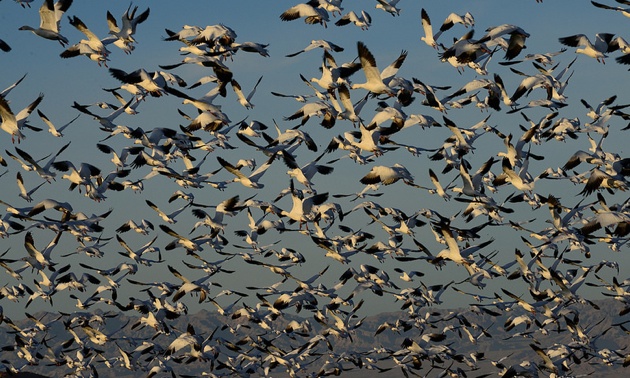 Tucked away in the Imperial Valley in southern California is a wildlife sanctuary which is considered one of the top bird watching spots in North America. About an hour north of El Centro sits California's largest inland lake, the Salton Sea, and the Sonny Bono Salton Sea National Wildlife Refuge. The 2200 acres is made up of managed wetlands, agricultural fields and tree rows and is situated 69 metres below sea level.
Refuge project leader Chris Schoneman points out the wildlife refuge's location is significant.
"We are a stopping point for migrating birds that are heading south to Mexico and South America from Canada and the northern U.S.," he said. "We provide habitat for over 375 species of migratory and resident birds as well as bobcats, coyotes, rodents, snakes, lizards, turtles and fish. The refuge is a must see when in southern California. It's more than just looking at the wildlife and birds, but also an opportunity to learn about the migration of birds and the geology of this area."
The refuge was established in 1930 as a sanctuary and breeding ground for birds and wildlife. It was renamed in 1998 after Congressman Sonny Bono, who was instrumental in restoring the Salton Sea, an inland saline lake that formed in 1905 when the swelling Colorado River flowed into the Salton Basin for several years. Because the refuge is located in the Sonoran Desert, it sees some of the highest temperatures in the U.S.
Best times to see birds
Schoneman explained that birds can be seen at the refuge at any time, but there is a peak season.
"Climatically, the winter months are the most interesting," he said. "This is when the most birds are here and the weather is a bit milder, making it more comfortable while walking around. To really experience the refuge, I would recommend a full day so you actually get to see everything."
There are two walking trails at the refuge. One is just over three kilometres round trip and takes visitors through several habitats. It starts at the visitor centre and ends on a hill overlooking the Salton Sea. The second trail is just under a kilometre in length and loops around a freshwater pond where the endangered Yuma clapper rail often nests. There are also old geological formations at the refuge including an inactive volcano.
"There are some great photo ops," said Schoneman. "It can take time and patience if you are trying to get a shot of a specific bird, but there's so much more at the refuge to get pictures of. There are often warblers in the desert shrubbery around the parking lot. And the sunrises and sunsets in the winter are outstanding. It's worth it to wait until the sun starts to go down to capture the red and orange sky with the Salton Sea in the foreground. It's breathtaking."