Top things to see and do in Edson
Its great outdoors and interesting past make Edson a great place for all ages to discover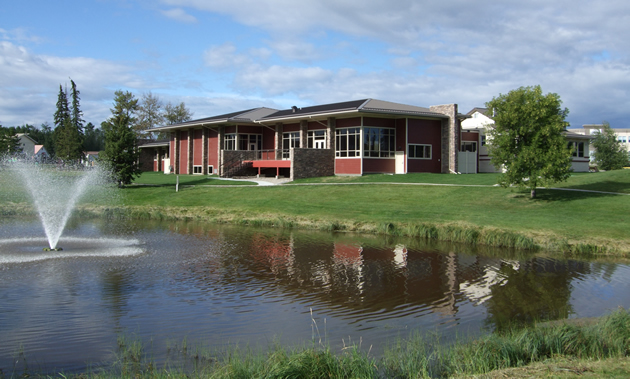 Edson, Alberta, can be found halfway between Edmonton and Jasper. It's a convenient stopping place, certainly—the attractive travel centre is in a park and offers coffee, tea and clean bathrooms. Take time to scratch the surface, however, and you'll discover a gem of a town with lots of surprises.
1. Explore the Galloway Station Museum
The Galloway Station Museum & Travel Centre is the obvious place to start any visit to Edson. It's clearly visible from the Yellowhead Highway and is located in a park, which means lots of room to stretch legs and eat lunch. Helpful staff and free Wi-Fi will also appeal to those looking for information. The museum is also a very worthwhile visit. A number of interactive exhibits such as a full-sized trapper's cabin give life to the history of the area and to the old station building that is now over 100 years old.
2. Get your fill of outdoor adventure
Edson has more outdoor opportunities than you can shake a stick at. Hikers will have nearly limitless options with the hoodoos at Sundance Provincial Park being a particular favourite. Horseback riding is another fun activity in the area. Edson also boasts a good golf course. More adventurous options such as ATVing are popular and there is some excellent fishing in the region.
3. Enjoy "the world's greatest" slo-pitch tournament
Only one town can host Canada's biggest slo-pitch tournament, and it just so happens to be Edson. Every August long weekend teams from throughout Canada and even some from the U.S. converge on the little town. Vision Park has 24 regulation-sized diamonds to accommodate 272 teams. There is something for everyone including home-run derbies, evening concerts, vendors and beer gardens. Slo-pitch makes for one fast-paced summer weekend.
4. A part of the past
One of Edson's oldest buildings, the Red Brick School is celebrating its centennial in 2013. The beautiful old school building now hosts arts and culture performances and houses a gift shop. If you're just stopping by be sure to check out the 1920s classroom and the local art gallery that showcases rotating art shows.
5. Discover the railroads of old
Edson has a bit of a checkered history, including the first aerial police chase in Canada landing in the town. Regardless, it all started with the railway and Edson received its first passenger train in 1910. The Coal Branch Railway was one of the first railways in Western Canada, with growth fuelled by coal mining in the area. Today you can visit the often-abandoned sites, giving you an idea of the past. A good side trip takes visitors west to the Brule Sand Dunes where remnants of railroad can be seen after the segment closed due to blowing sand. The languished ties and rails lend an eerie whisper of the past to those with an interest in the railway.