Finding waterfront fun near Edmonton, Alberta
If you're RVing in Edmonton and you want to cool off, have a blast in the water at one of these nearby locations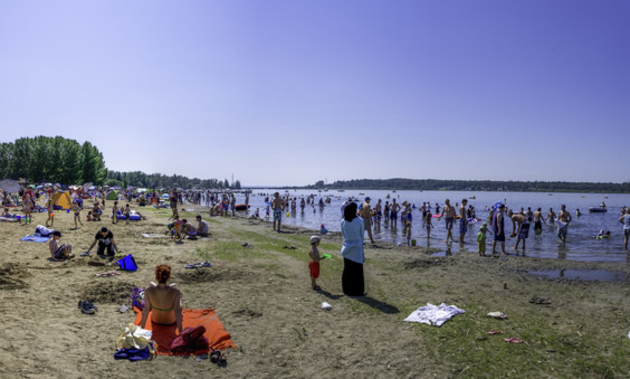 You might not have realized it, but Edmonton can be a fabulous destination for water-loving RVers. There are a few spots just a short drive from the city, where you can indulge in all your favourite watersports.
Situated 65 kilometres (40 miles) west of Edmonton, Wabamun Lake Provincial Park has a popular campground (reservations are highly recommended). The lake is inviting for those who enjoy sailing, power boating, paddling, water-skiing and fishing. If you want to go for a swim, you can choose between the natural Seba Beach or the man-made Moonlight Bay.
If you take a leisurely drive (it will take about an hour and a half) southwest of Edmonton, you will reach Pigeon Lake Provincial Park. There are three different camping areas in the park, and its known for its pleasant beaches. Go sport fishing for yellow perch, walleye and northern pike, take a swim in the lake or go boating for the day - it's all there for you to enjoy
The village of Alberta Beach can be found on the shores of Lac Ste. Anne, just 60 kilometres (37 miles) west of Edmonton. This has been a tourist hot spot since the 1900s, and its population grows significantly during the summer and on long weekends. Many Edmonton locals will come here to relax outside city limits, as it offers a sandy beach, warm, shallow water and boat launches for the convenience of visitors. The lake is ideal for fishing, water-skiing, swimming and other sports, and there is plenty of room to sunbathe unhindered on the beach.
Miquelon Lake Provincial Park is located an hour southeast of Edmonton, and it's a common gathering place for those who are seeking a relaxing water destination. There are serviced and unserviced campsites available here, and places to take your kayak, canoe or sailboat. Be aware that if water levels are low, you may not be able to operate a power boat on this lake. You can, however, have a day of swimming and basking on the sandy beach with your family.