Fascinating finds near Edmonton
RVing in the Edmonton area allows the adventurous to discover a whole world of historic and modern treasures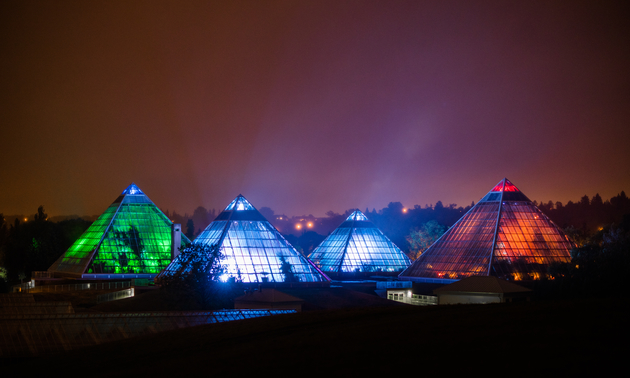 From geocaching treasures to modern and historical attractions, you can run into all sorts of intriguing discoveries whilst RVing in the Edmonton area.
Even at first glance the Muttart Conservatory stands out, due to its architecture. The glass pyramid-shaped buildings are more than just aesthetically pleasing, however. They are home to one of Canada's largest botanical collections.
Three of the pyramids contain the conservatory's year-round botanical garden displays. The fourth pyramid houses the current feature display - this exhibit changes up to eight times each year.
In addition to being a magnet for nature lovers, Muttart Conservatory also offers entertainment options. You can take in live music, fine art shows, handcrafting programs and other events while you're there. Don't forget to get a meal at Culina Muttart - this eatery is known for its brunches and excellent views.
Geocaching is gaining popularity, and it has a strong local following in the Edmonton area.
There is even an online forum called Geocaching Edmonton, where you can keep tabs on the latest geocaching events, join the Geocaching Edmonton & Area Association, take part in GPS games or just meet others who are enjoying this fun activity in your vicinity.
If you're looking for historic treasures, the John Walter Museum is a good place to start.
Situated in Kinsmen Park, this quaint heritage site gives visitors a glimpse into the life of John Walter and the Walterdale community, as it existed from 1875 to 1920. You can take a free self-guided tour, enjoy the nearby walking trails, playground and picnic areas, or attend one of the community events that celebrate local history.
The museum is open and free to the public every Sunday (March through November) and Saturday (July through September) from 1 to 4 p.m.