Refuges for the rare
Some of Arizona's rarest plants and animals can be found at refuges near Douglas
by Glynis Fediuk —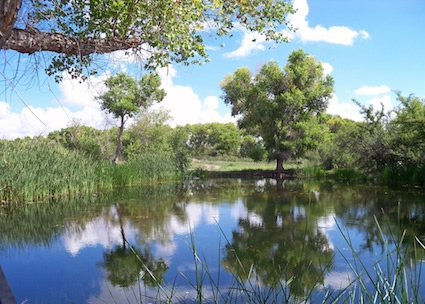 The value of the water resources found in the San Bernardino and Leslie Canyon national wildlife refuges (NWRs) has long been recognized. These NWRs were livestock grazing lands for many years before becoming protected areas in the 1980s. The land is now being utilized by a different crowd—the local flora and fauna, including several rare or listed species.
"The reason both refuges were established was for the native fish," said Chris Lohrengel, the assistant refuge manager. "There's four listed species of fish found between the refuges."
These include the yaqui chub and the yaqui topminnow. The variety of animals living in the NWRs ranges from the endemic San Bernardino springsnail—found only at the NWR and one location in Mexico—to hundreds of bird species that rely on the area for nesting or as a migration stopover point.
The landscape of the NWRs consists of desert grassland and scrubland, but there are also riparian areas and vegetation that includes black walnut and Arizona ash in Leslie Canyon.
"We've got one of the few remaining mesquite bosques that's not going to be removed," said Lohrengel. "In Arizona, they're becoming an endangered habitat type and they're very beneficial for neo-tropical songbirds."