Something for everyone at Dawson Creek
Whether you want to explore or relax, Dawson Creek is the perfect stop with an art gallery, historic tours, or lakes and paths to discover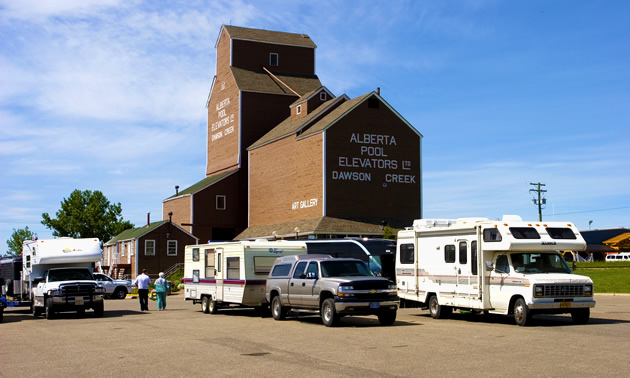 "Dawson Creek is a great destination for anybody because there's so much to offer—there's a great variety and option for everyone," said Samantha Gibeault, tourism development co-ordinator.
The town does provide a must-stop visit for anyone on a northern road trip. A great interlude to the drive is the historic walking tour. Visitors can stretch and explore the downtown while also learning about the history of the area. The tour includes some of the original hotels that were built in the 1930s and '40s, which are now modern-day businesses. Anyone doing the walk will also learn some of the stories on the Mile 0 post as well as the Alaska Highway House, which was the original pharmacy for the area. Walkin tour brochures are available free of charge at the visitor centre.
The visitor centre can also direct RVers to the Dawson Creek Trail, a delightful paved path that travels along the banks of Dawson Creek. Anyone travelling down the trail will enjoy a number of parks and calming green space. Kin Park, along the route, has one of the province's first outdoor fitness parks as well as tennis courts.
Follow your walk by cooling down at Rotary Lake. This man-made lake is at Mile 0 Park right in town and is a great place to relax. It's easy to access and to find parking. Enjoy a picnic lunch and go for a swim or make use of the volleyball courts and send any kids to the playground.
Another relaxing activity is a visit to the Dawson Creek Art Gallery. The converted prairie grain elevator is in the NAR Park next to the visitor centre. Displays are hung alongside ramps that ascend to the annex. A visit to the rotating exhibits will probably take anywhere from 20 minutes to an hour and will feature local, national and international artwork. The stairway down highlights displays on the history of the Alaska Highway.
Whether they are outdoorsy folks, history buffs or those looking for arts and culture, every visitor to Dawson Creek will find something to catch their interest.