Snowbirds go north
Longtime snowbirds Cal Wilson and Lynn Dent-Wilson head north to visit old stomping grounds and soak up some history
by Lisa Crane —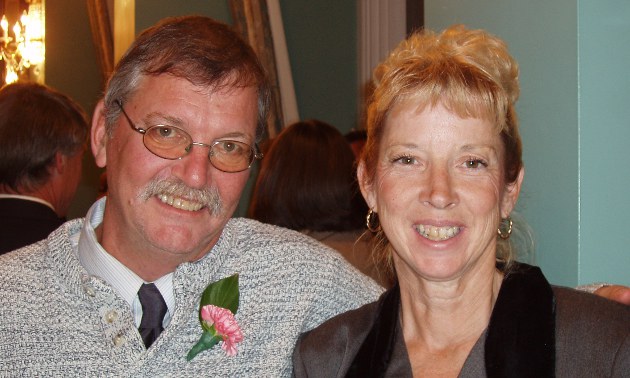 Snowbirds Lynn Dent-Wilson and Cal Wilson have been travelling down south for years. Last year, however, they decided to mix it up a bit, so they headed northwest from their hometown of Lac La Hache, British Columbia, in June.
Both retired foresters, Lynn and Cal had always wanted to make a trip to Yukon and over to Alaska. For Lynn, this journey would take her back to her old stomping grounds up north—to Yukon and also to where she and Cal had met, Fort Nelson, B.C. Cal, who is very interested in history and was looking to explore the heritage of Yukon, said he had never been north of the region.
A change of pace and place
Last June proved to be a perfect opportunity to make the trip. The couple travelled 10,000 kilometres in 5 1/2 weeks in a 31-foot 2008 Cougar fifth wheel. Cal and Lynn have lived in Lac La Hache since 1994. They said they have been going south for the winters for at least 15 years—to Mexico, Arizona, California, Nevada and Texas. When they considered the Yukon trip, they were thinking about their earlier years.
"We were both working in the forest service in the North," said Lynn. "Cal was in Dawson Creek—Mile 0 of the Alaska Highway—and I was in Fort Nelson further north."
More time to play
Cal said the trip was something he had always wanted to do. He thought June would be an ideal time to experience the Land of the Midnight Sun, to be there during the summer solstice and when the days are the longest.
"It was kind of strange to be walking around at 11 o'clock at night and kids are playing and riding their bikes," said Lynn.
For this couple, Yukon was a great experience.
"It has its own magic and the people are so friendly and accommodating," said Lynn. "Without a doubt, for both Cal and me, it is a place we would go back to."
A highlight for these adventurers was travelling the Haines Highway that connects Haines Junction, Yukon, and Haines, Alaska.
"It is an alpine road with lots of wildlife," said Cal.
Wildlife, as in bears. The couple encountered grizzlies along the way, and one even sauntered through their campsite at Million Dollar Falls near Haines Junction. Lynn wasn't too fazed—she said that was common around that area.
Discovering the richness
Cal was a big fan of Dawson City, Yukon—the heart of the world-famous Klondike Gold Rush. He enjoyed the Dawson City Museum, which has the largest collection in Yukon dedicated to the gold rush, gold mining, the Klondike region and so much more.
"You can't get more Yukon than Dawson City," said Lynn.
Cal definitely likes his history, and he enjoyed visiting the museums throughout the trip. Also a bluegrass fan and guitar and banjo player, Cal said there are a number of shows one can take in; he was disappointed, though, that he missed the Chicken Bluegrass Festival by a whisker. Museums to see, Cal said, are the University of Alaska Museum of the North and the museums in Whitehorse.
"Whitehorse is a really nice city," said Lynn. "It has grown exponentially and is an incredible, self-contained city, with the noticeable hub being right downtown."
Whitehorse, situated along the Yukon River, is well known for its historical sternwheelers and for attracting musicians.
Recommendations from Lynn and Cal
The couple suggest reading Pierre Berton's book Klondike. It gives an excellent account of the gold rush and the hardships encountered.
"This is a book well worth reading before you go," said Lynn.
Cal said the Alaska travel planner, The Milepost, is another handy guide.
Both said the White Pass & Yukon Route Railroad (WP&YR) is an absolute must-see.
"The railroad is the actual pass from Skagway to Whitehorse that was used during the gold rush," said Lynn. "It goes right over the top and down the mountain range. You can actually see the footpaths where the people came into Canada, carrying their belongings."
This narrow-gauge railway was built during the Klondike Gold Rush in 1898 by blasting through the mountains. Although considered an unlikely feat, the building of the railway was successfully completed and it became a fully integrated transport company.
"For people who want to see the country from the frontier point of view, White Pass is well worth the train ride and the money," said Lynn.
Happy campers
The couple were very impressed with the territorial campgrounds on their trip.
"The government campsites up in the Yukon were probably the best we have seen," said Lynn. "They are awesome, user friendly, inexpensive and not busy. I think it is their best kept secret."