Dawson Creek dossier
Here's what to do in the Mile Zero City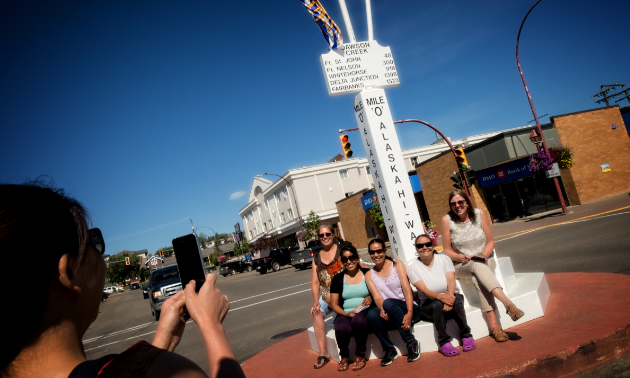 Most people and places strive to be number one. The exception is the Mile Zero City of the Alaska Highway: Dawson Creek.
You won't see James Van Der Beek or hear I Don't Want to Wait from the Dawson's Creek TV show. Instead, you'll be treated to a plethora of events such as special anniversary unveilings and exhibits that pay tribute to the construction of the Alaska Highway.
A new art statue is set to be revealed that was built from a trencher used in the construction of the highway, a special anniversary exhibit can be seen at the Walter Wright Pioneer Village, and you can witness a historic military convoy on its way north.
Travel through time by taking a trip to the Alaska Highway House. Stroll back to the 1940s for a glimpse into the lives of the soldiers and civilians who worked to build the Alaska Highway through interpretive exhibits, artifacts and a movie. An authentic military tent will be assembled where you can listen to storytellers reveal how the construction of the Alaska Highway changed Dawson Creek forever. Once that has concluded, stretch your legs and join the visitor centre staff on the short, interpretive Downtown Historic Walking Tour.

The Alaska Highway Roadshow will be rolling through the Creek July 7th. The performance will be led by three artists whose families have a long history in the north. Bill Dolan, Allison Tubman and Kathy Jessup weave together research, family stories, music, artifacts and photographs to present an entertaining look back on the route's remarkable 75-year history.

This year is also Canada's 150th anniversary of Confederation and Dawson Creek will be celebrating with other events and exhibits like Tim Van Horn's Canadian Mosaic Project. Van Horn has been photographing Canadians since 2008 to amass a ginormous collection of photos. He's taken pictures of subjects in front of a red or white backdrop to incorporate each portrait into the Canadian flag. See his exhibit on your way through Dawson Creek.
With so much to keep you busy, you may not embark on your trip beyond the Mile 0 City for quite some time. Start your journey off right by absorbing everything Dawson Creek has to offer.