An ancient bridge, a queen's slough and a railway await in Dawson's Creek
A walk through Dawson Creek yields an array of sights to see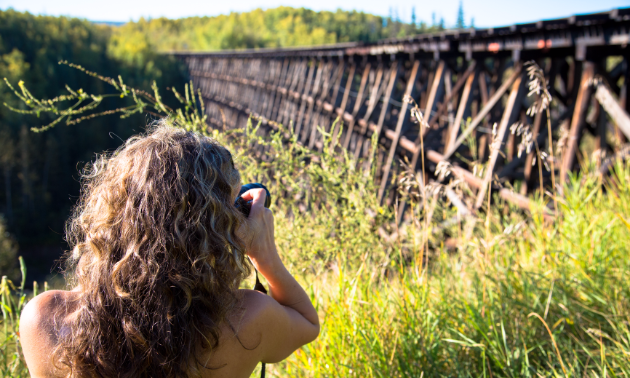 Whether you want to explore or relax, Dawson Creek is the perfect stop with an art gallery, historic tours, or lakes and paths to discover.
If art is your interest, self-guided tours of downtown Dawson Creek take you on a voyage through the city's history via a series of large murals depicting historical events and the evolution of some of Dawson Creek's buildings.
Located next door to the Dawson Creek Art Gallery is the original railway station, constructed in 1931 for the Northern Alberta Railway. The building now houses the Dawson Creek Station Museum, which showcases the cultural and industrial history of Dawson Creek, as well as an impressive collection of taxidermy.
While the first part of the Dawson Creek Station Museum presents artifacts mainly focused on the railway's history and its contribution to the town's development, the second part displays fossils, moose, bears and a vast array of native bird species.
The Kiskatinaw Bridge is an impressive historical timber-truss structure. "Pouce Coupe has a 1930s still-standing wooden railway trestle," said Samantha Gibeault, tourism development co-ordinator for Dawson Creek. "It's absolutely incredible. (Thrill seekers) can walk across it because the railway is no longer used. . . . Because it was built in the '30s, you can see through the spacing of the lumber."
Curving nine degrees along its 162-metre (534-foot) length, the bridge was the first of its kind and one of the most unusual in shape. About 500,000 board feet of creosoted B.C. fir was used to construct the three-span bridge, 30 metres (100 feet) above a stream. It is held up with pedestals and piers comprised of 800 cubic yards of concrete.
A trip to McQueen's Slough is especially popular among birdwatchers. This well-known wetland attraction is situated 12 kilometres from Dawson Creek. It has boardwalks with viewing platforms that enable photographers and other guests to have the best views possible. See trumpeter swans, ruddy ducks, ring-necked ducks and other beautiful bird species during your relaxing stroll. You might even come across a beaver, muskrat or deer along the way.