2014 Alaska Caravan
by Duane Pilson —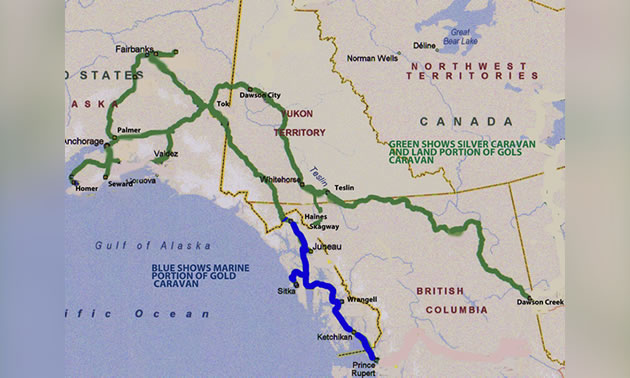 My wife and I made our first trip to Alaska in 1996 and fell in love with not only Alaska but also the Yukon. At that time we decided to start a tour company for RVers, which led to the forming of Rec-Vee Holiday Adventures.
We took our first RV caravan through Alaska, Yukon and the Northwest Territories in 1999. The joy of sharing these areas with fellow RVers is something that can not ever be expressed in words. We continued to take caravans up to Alaska until health reasons forced us to stop in 2008, so we retired from the business.
But life has an unexpected way of altering plans. We were contacted by Triple E/Leisure Travel Vans of Winkler, Manitoba, to see if we would put on a special caravan in 2014 for the owners of their vehicles. Having not been there since 2008, we made a special trip this year to fill in any blanks that might have occurred over the years.
We not only had a great time but also had the opportunity to visit some new RV parks, see some great new attractions, and do something we've always dreamed about—take a trip down the Alaska Marine Highway from Haines, Alaska, to Prince Rupert, B.C., visiting some amazing communities along the way.
Our 2013 trip is the basis of the 2014 Caravans. Join us for 73 days for $11,700 or 57 days for $8250. Departing on June 1, we will visit such communities as Dawson Creek, Skagway, Whitehorse, Dawson City, Fairbanks, Anchorage, Seward, Homer, Kenai, Palmer, Haines Junction and Haines. Those on the long caravan will also be visiting Juneau, Sitka, Wrangell, Ketchikan and Prince Rupert.
The great thing about a caravan is having guides who know the area and can showcase the best there is to see in each community: entertainment, attractions, campgrounds and restaurants.
Some of the highlights of the caravan are:
Visit the Alaska state capital, only accessible by air or sea.
See glaciers calving in Valdez, Juneau and Seward.
Get up close to wildlife in Sitka. We were three or four metres from a grizzly at the Fortress of the Bears.
Learn about the history of the regions we travel through and the communities we visit.
Read a book under the midnight sun.
See panoramic vistas that will blow your mind.
Take a ride on a narrow gauge railway in Skagway.
Ride a riverboat in Fairbanks.
Go gold panning in Dawson City and Fairbanks.
See parts of Alaska normally only accessible by ferry or cruise ship.
See some of the biggest and brightest flowers in North America.
Visit an ice museum at Chena Hot Springs.
Participation on this caravan is limited to owners of Leisure travel vans and Triple E Regency vehicles. Registration for 2014 is restricted, with only six places available for the land-based portion and four places on the land-and-sea portion.
For additional information, email Rec-Vee Holiday Adventures at [email protected]