Miles and miles to explore
From literary treats to music festivals, the arts are alive and well up north
by Sandra Albers —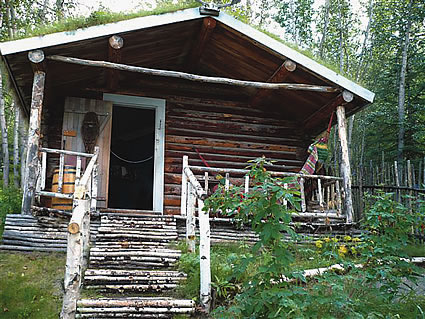 There's just something about the North.
Whether the destination is the Yukon or Alaska or both, everyone should drive the length of the Alaska Highway at least once; there is simply no other way to appreciate the formidable distances.
We all know Canada is wide from west to east, but when you've driven 2,000 miles from Cranbrook, British Columbia, to Whitehorse, Yukon, you realize just how vast this country is from south to north.
With nothing but a small SUV and a tent, my husband, Gerry Warner, and I drove all those miles last summer. In typical Albers-Warner fashion, we picked the summer that gas prices were at their peak to do the trip. The thing is, we wanted to visit our university student daughter, who was doing chambermaid duty that summer at the Midnight Sun Hotel in Dawson City, another six hours' drive from Whitehorse. Are we crazy or what?
There was the night we camped en route near Grande Prairie, Alberta, when the skies opened and it rained literally all night long. Needless to say, my husband has been informed in no uncertain terms that we are now in the market for an RV of some sort (a tent trailer, at the very least).
Still, we dried out the sopping tent at Liard Hot Springs, which is still in B.C. but getting close to the Yukon border. These hot springs, by the way, are the most beautiful, bar none, that I have ever encountered. Located in a provincial park and surrounded by lush hanging gardens, the pools range in temperature from tepid to so-hot-you-can't-stand-it. They are a must-stop, for sure.
Whitehorse, the Yukon's capital, is a cosmopolitan city well worth spending time in. But I maintain you haven't seen the real Yukon unless you get to Dawson City. You can walk to just about everything in this tiny community. Be sure to check out author Pierre Berton's boyhood home, now in use as a writer's retreat, and don't miss the poetry readings at the Robert Service Cabin. ("There are strange things done in the midnight sun…" and all that.) You can also see the bank building where the famous bard earned his spending money.
The Klondike Institute of Art and Culture, an art and education presentation centre, is also a happening place. Maybe it's something about those long winter nights, but the creative juices are alive and well and thriving in the North.
Onwards to Alaska
Of course, if you've come this far, you really should make time to see something of neighbouring Alaska. Skagway and Haines are small communities well worth a visit.
The capital city of Juneau is also a must-see. If you happen to be in Juneau in June, the Juneau Symphony presents an evening with jazz composers George Gershwin and Jerome Kern on Saturday, June 13. Summer visitors who are also art aficionados should keep in mind that the first Friday evening of each month, Juneau galleries, shops and museums feature local artwork and host receptions and special events for featured artists. (Due to the Fourth of July holiday, that month's events will be scheduled for Thursday, July 3.)
The Juneau art scene is lively, with works ranging from native art to lapidary items crafted from local stone.