In with the old, out with the new
Dawson City combines history and entertainment to draw in RVers from all around the globe
by Glynis Fediuk —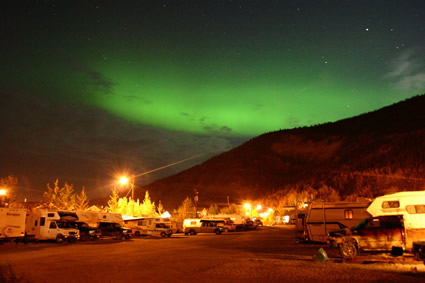 Visions of unbelievable riches drew thousands to Dawson City during the late 1800s gold rush, but in the present day, this Yukon city has more than goldpanning to attract visitors. Guides dressed in Klondike era garb and buildings constructed in turn-of-the-century styles juxtapose state-of-the-art museums and refurbished mining equipment, a thriving nightlife scene and the Top of the World Golf Course, home to Canada's most northernly grass greens. Any RVer that is either interested in history or simply looking for an unrivaled atmosphere, should make Dawson City—shortened to Dawson by the locals—their next stop on a northern vacation.
"It's almost a reflection of the gold rush itself back in the late 1890s," said Pat Brooks, commenting on the sheer volume of visitors to Dawson. He and his wife Dianne have owned the Gold Rush Campground for eight years and have seen visitors from every state and province, as well as international locations such as Italy, France and Guam. Pat and Dianne will host anywhere between 12,000 and 14,000 people in a year. Today's RVers are likely more prepared than the miners who arrived at the turn of the century, though; Pat noted that many of the folks who dreamt of riches arrived in Dawson without any knowledge of goldpanning. "It's in the nature of a gold rush that by the time the word leaks out it's over, because the locals will have staked it," he said.
Attractions to entice
When it comes to attractions worth visiting in Dawson, Pat emphasized the incredible amount of activities to take in. He recommends a minimum of three days to fully appreciate Dawson's surroundings. "The nice thing is that the Yukon government works very closely with tourism here [and] with the local merchants. They have lists of things to do and more importantly…we have lists that tell you what times the [historical] tours are available," he commented. Dredge #4, a national historic site, is the largest dredge in North America and a must-see for all visitors: "You really have to witness it and get inside it on the tour to see the huge gears [and] timbers running inside it and appreciate the size, what it was and what it did. It basically was a huge gold miner, much the same as a person on the banks of the creek. It just was a much larger fashion, it moved tons and tons of rock to get to the gold," Pat explained. Gold mining continues to play a significant role in the economy in Dawson.
Just like home
Of course, there's more than just mining paraphernalia to admire. RVers from small communities will be grateful for Dawson's big-city flavour while maintaining a moderate size. "There's a feel about Dawson. We've actually seen it—people get out of their RVs and they stop and they turn and look around and they'll say. 'It's just like home.' If you've grown up in a small town [and] you like the feel of a small town, then Dawson is your city," Pat said.
When the gold miners first arrived in the Yukon, they imagined golden riches. In the present day, Dawson is rich not only with minerals but with adventure and zest. Whether it is your final destination or a stop at the beginning of a trip, Dawson City is a stop that should be included on every RVer's itinerary—just be sure to stay for a few nights!