Focusing on Fort Steele
Be sure to bring your camera if you're planning a visit to Fort Steele Heritage Town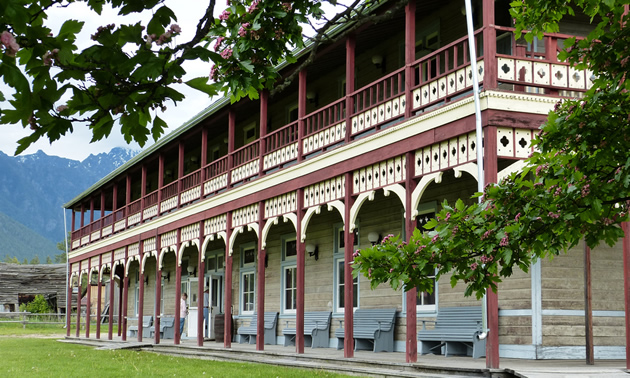 Camera in hand, I headed to Fort Steele Heritage Town for my photography class with Brian Clarkson, who is the owner of Cranbrook Photo & Studio in Cranbrook, B.C. It was a pleasant day in August last year, and I met up with a small group of budding photographers who had signed up for one of Clarkson's monthly camera classes. Our foray into the world of photography began as soon as we had passed through the park's admission office.
The first building we encountered at this restored gold rush-era town was the stable where the Clydesdale horses are kept. These gentle giants are more than willing to pose for a photo or a pat on the nose, but they're not just for show. On your visit to Fort Steele, you are likely to see them pulling heavy farm equipment in the fields or wagonloads of visitors around town. Other heritage livestock you can see and pet at Fort Steele include goats, sheep and mules.
After having lunch at the International Hotel Restaurant, our group went with Clarkson to the beautiful pavilion in the centre of town. With the Steeples mountain range and Fisher Peak—the highest mountain in the range—in the background, it was the ideal spot to learn about shooting portraits and taking scenic shots. We were interrupted, however, by a bridal party that had horned in on our great photo spot. We gave them some privacy and moved on to the Wasa Hotel Museum.
The Wasa Hotel Museum is one of Fort Steele's 60 buildings that have been completely restored and reconstructed. At the museum, visitors can learn about the history and heritage of Fort Steele through informative displays. In the summer, the building is also home to an art gallery that showcases the work of local artists. The gallery is operated by the very artists whose works are on display, so visitors can meet with them and discuss or even purchase some of their pieces.
Other features exclusive to summertime at Fort Steele Heritage Town are the Wild Horse Theatre shows and living history street performances. Street performances take place daily from June 15 to September 1. See the Fort Steele Heritage Town website for details on upcoming live performances at the Wild Horse Theatre.
Our photo class concluded at 4:30 p.m., and when the rest of the group headed back to the parking lot, I stayed to snap off some more pictures. My camera got a good workout that day as I tried to capture everything from the flowers in the heritage gardens to the characters dressed in colourful late-19th-century costumes.
Strolling along the town's wooden boardwalk minutes before closing time at the site, it became apparent to me why Clarkson had decided to bring his photo students to Fort Steele. From the old-fashioned storefronts to the high-steppin' Clydesdale horses, there are a host of great picture-taking opportunities at Fort Steele.