Explore yesterday today at Fort Steele
Bringing the gold rush to life
by Lisa Crane —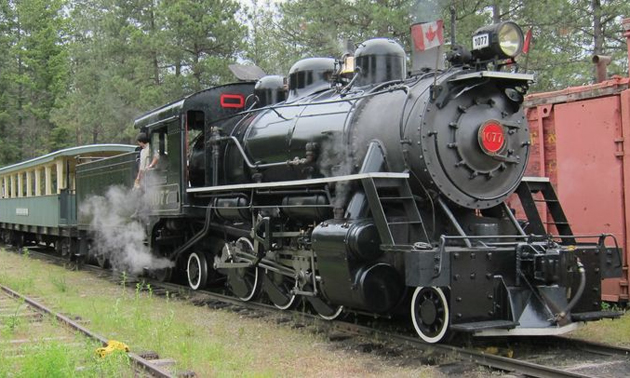 Fort Steele Heritage Town is a cultural icon, located on the western side of the Rocky Mountains in Canada. It is a well-known living history museum, bringing to life the old gold rush days when the town was a thriving metropolis. It is now a very popular tourist attraction, having been declared a historic park in 1961.
The Friends of Fort Steele Society maintains this historic settlement by facilitating live shows, heritage-trade demonstrations, street theatre, steam-train rides, horsedrawn carriage rides and much more. Fort Steele is open year-round, offering entertainment for all seasons.
Brenna Baker, the town's sales and marketing coordinator, said that Fisherville, ten minutes from Fort Steele, is a great place to visit.
"It is actually where the gold rush began in the 1860s," said Baker. "And Fort Steele grew up because of Fisherville. It is on Wild Horse Creek. There is an interpretive centre, a cemetery of some of the original miners and a lot of Chinese history there—well worth a visit while you're visiting Fort Steele."
Wild Horse Theatre
Baker said the Wild Horse Theatre will be operating year-round, under the new management of Trevor Lundy. The theatre will be showing the Great Cattle Caper this summer, playing every day from July 1.
"Lundy has a lot of excellent ideas and energy to bring the Wild Horse alive this year—we are all looking forward to it," said Baker. "We are going to be doing different shows throughout the year, such as plays, guest speakers and musicians.
"The Wild Horse Theatre, built in the 1960s, is a replica of an old theatre and holds about 475 people," said Baker. "A lot of people don't know about it, so what we would like to do is to be able to rent it out as well as hold our shows."
Everyone at Fort Steele Heritage Town is excited about the busy summer season. As well as all the activities and events, Baker said that the Wasa Hotel Museum is a must-see. Visitors can learn about the history and heritage of Fort Steele and the people who lived there. In summer, local artists display their talents at Art at the Fort in the museum.
"There is so much to see and do at Fort Steele for everybody," said Baker. "Take a giant leap into the 1890s and experience this restored pioneer boom town."
Check out the historic town's calendar of events on its website.