Wrangle some water into your summer plans in Cochrane
Cochrane, Alberta, has some seriously fun places to get wet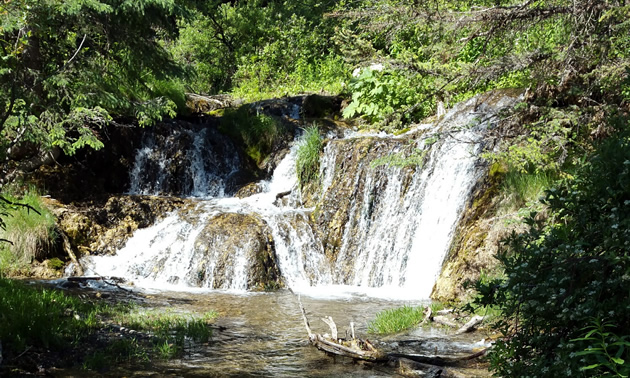 Yee haw, Cochrane! It's time to ride those waves . . . sort of. While big-wave surfing isn't really viable in Cochrane, Alberta, visitors and locals can still get out on the water at the local provincial parks, lakes and recreation areas. In addition to Cochrane's historical sites, ranches and activity centres, here are some of the top water-centric places that are worth the trip.
Glenbow Ranch Provincial Park and Big Hill Springs Provincial Park are covered in front-country hiking trails. While neither of the parks allow for overnight camping, visitors are welcome to spend the day hiking, picnicking and mountain biking. The waterfall at Big Hills is spectacular, and there is a smaller pool by the picnic area where younger kids can splash around.
For water fun indoors, the new pool at Spray Lake Sawmills Family Sports Centre offers two large water slides, a lazy river, a wave pool, a therapy pool, a lap pool and outside splash/fun pool. Adjacent to the Spray Lakes Sports Centre is the nicest RV park in Cochrane, Bow Rivers Edge Campground.
Jumpingpound Creek is another area that enthusiasts of all kinds can enjoy. There is a hiking trail 9.2 kilometres long that can be trekked by hikers of all skill levels. There is the option to make the trip shorter at the halfway point. The fishing here is popular, with fish such as trout, mountain whitefish and brook trout regularly making an appearance.
You can launch your boat or kayak at Riverfront Park, just off Griffin Road. The walking trail here follows the Bow River, and has many picnic benches and firepits along the way. This is the perfect place to spend an afternoon, or to get out of the RV and stretch your legs.
Every summer, Mitford Pond is stocked with trout for fishing. This offers a great learning experience for younger enthusiasts, and an enjoyable day out on the water. The only catch? (see what I did there) Only fishers under the age of 14 can keep what they reel in.
Ghost Reservoir Provincial Recreation Area, on the edge of Kananaskis Country, is the place to go for a more intense water adventure. This man-made lake is a regular haunt for avid water skiers, power boaters, sailers, wind-surfers, fishers and kayakers. Campers can enjoy their stay in the comfortable RV and tenting sites.
To learn more about the Cochrane area and its less-wet activities, visit their tourism website.