Christina Lake's unique and wonderful colours
Visit the town's arts centre to experience local culture and history
The Christina Lake Arts & Artisans Society (CLAAS) works hard to enrich its community through the arts. A visit to its home base, the Christina Lake Welcome & Arts Centre, will energize visitors through the expression of local artistic talents and historical pride. The society is a recognized charity that plans and initiates art festivals, live musical performances and educational programs for visitors and locals. CLAAS also organizes art classes in a variety of mediums. One of the goals of the society is to get artists out of their studios to meet and possibly collaborate with other artists in their community to co-create pieces that never would have existed otherwise.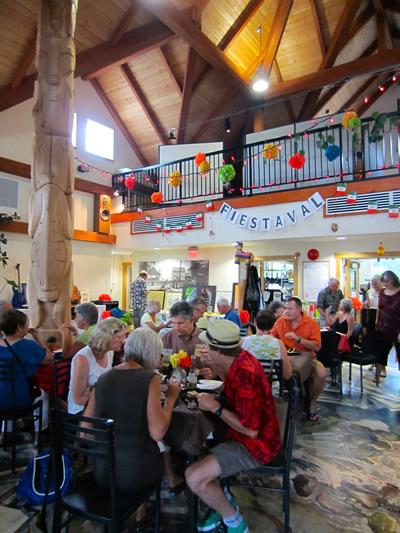 The Christina Lake Welcome & Living Arts Centre building—which houses CLAAS, the tourist info centre, the home of the local chamber of commerce, the Christina Lake Stewardship Society, the Arts on 3 Gallery, a gift shop and the popular Lisa's Lakeside Bistro—has a design that reflects historical Kootenay architecture, and showcases a floor mural and totem pole carvings built into the structure itself. It is a busy venue for activities like art and craft classes, fitness sessions, yoga, and music and a variety of events like conferences, weddings and trade shows.
For visitors just passing through Christina Lake, this spot is perfect to grab a bite to eat, refresh and take in a bit of the local culture and learn about the area's history.
As CLAAS helped to spearhead the design and construction of the building, it ensured that a gallery for art showcases and exhibitions could be put on (Doodlebug chocolates are also on sale at this location). Today, the gallery puts many local artists' collections and glass works on display. Mediums that can be found in the gallery include: soap, fibre works, painting, jewelry, metal sculpture, photography, woodworking and pottery.
For more information about CLAAS or their beautifully designed headquarters, visit the society's website.