Top things to see and do in Chilliwack
Outdoor splendour combined with comfort and culture, Chilliwack seems to have it all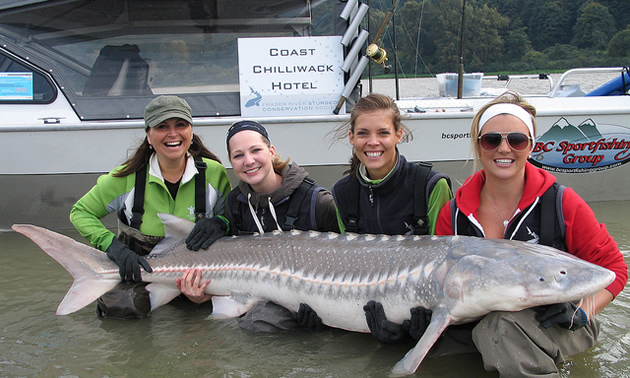 For just about anyone on the road, Chilliwack is well situated. Coastal cities are within reach and day trips abound, yet Chilliwack is also surrounded by natural beauty and outdoor adventure. Don't miss these great things to see and do while making this mid-sized city a part of your trip.
1) Live your fishing story
Located on the Fraser River, it won't come as a surprise that Chilliwack offers up optimal fishing opportunities. There shouldn't be any need to stretch your stories when you're dealing with a river that boasts all five species of Pacific salmon as well as the much sought-after steelhead. Surrounding lakes also offer the opportunity to catch other varieties such as rainbow trout and kokanee. For the fishing adventure of a lifetime, however, try to catch a mighty white sturgeon. Best of luck—just make sure you follow any catch-and-release regulations to preserve this exhilarating sport for future generations. You can find the regulations, plus loads of other info, at fishchilliwack.com.
2) It's a humdinger of a show
For more than a decade Chilliwack has been hosting what has appropriately been called the Chilliwack Humdinger RV Sale and Show. This event is billed as the largest indoor show in British Columbia. It's a great opportunity to check out what's happening in the RV market, as well as throughout this travelling community. Details and the dates for April 2012 can be found at www.chilliwackrvshow.com.
3) Tour around the farms
If you want a taste of the truly local, then pick up a circle farm tour map from the visitor information centre. If you complete the tour you'll make at least 10 stops ranging from herb garden to soap shack to honey farm. This tour is self-paced as you follow the map in your own vehicle, but each stop will be an exciting link to the area's agricultural background. Just be sure to check opening hours. If you find this particularly exciting, you'll want to look into the annual Slow Food Cycle Tour, which offers even more on a bike-route event.
4) Great hikes, great waterfalls, great outdoors
A trip to Chilliwack wouldn't be complete without taking time to appreciate the gorgeous natural surroundings. Cultus Lake is one option of a lovely area to relax. Chilliwack also offers hiking that ranges from a light stroll to something much more ambitious. For comprehensive details, ask at the visitor info centre for a hiking guide. Perhaps the most spectacular outing will be to Bridal Veil Falls. Enjoy lunch at the picnic/parking area before heading down the trail. The walk is an easy kilometre long, and well worth the effort.
5) Culture in Chilliwack
Regardless of when you plan to visit, be sure to check what is scheduled at the Chilliwack Cultural Centre. This state-of-the-art facility regularly hosts acts that will interest and delight almost anyone. Depending on the scheduling, this venue can provide you with an evening out at the ballet, a musical or a light-hearted comedy act.