Enjoy the parks in Bridal Falls
Check out Bridal Falls on the edge of Chilliwack and get a discount at the local water park.
by Kimberly Schoenberger —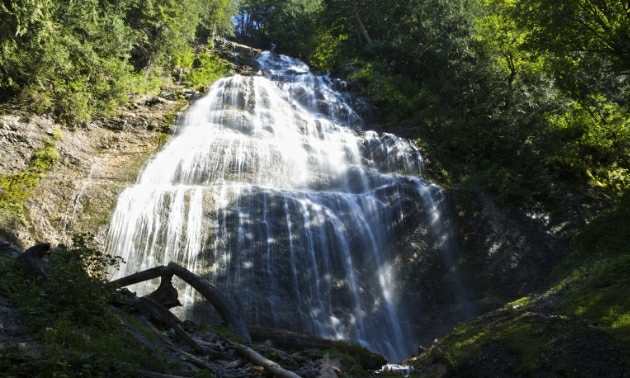 Bridal Falls is a small community located just outside of Chilliwack featuring a variety of great tourist stops, including several RV resorts and a peaceful provincial park featuring the community's namesake waterfall.
"Bridal Falls is specifically named for a waterfall that's part of a provincial park," said Steve Demers, operations manager for Holiday Trails, an RV resort network with campgrounds in Bridal Falls. "It's a beautiful park with streams running through. It's been here for 50 years or more."
The provincial park gained its status in 1965, but in the early 1900s it was used to generate electricity for the Bridal Falls Chalet. Remains of the generator's concrete foundation can still be found around the park. See if you can spot them from the viewing platform across from the falls—which Demers said is quite easy to get to.
"It's a very easy walk, anybody can do it," he said. "Bridal Falls itself comes down and through the provincial park, then it spreads into several streams and goes into the Fraser River from there."
Family fun on the waterslides
Though the streams at the provincial park might not be quite deep enough to use as a cool down from the toasty summer sun, the pools at Bridal Falls Waterpark definitely are.
"The water park has four large slides and two intermediate slides, and a very unique river raft ride which is actually a tube ride," said Demers. "It's very family friendly in the sense that there are no stairs, so it's totally accessible for everybody. If anybody has a need for ramps, we've got them covered because there's not a single step in the whole park."
Demers said accessibility is very important for the park, because everyone should be able to splash around on a cool waterslide in the heat of summer. There is also a hot tub at the park for colder days, as well as a children's spray park play area.
Variety at the RV campground
Immediately next door to the water park and just a 15 minute walk from the provincial park, you'll find Bridal Falls RV Campground—Holiday Trails' local branch.
"The RV park part of our organization is 285 sites, all full-service," said Demers. "We have a pool and a clubhouse, and we've also got a store. It's completely paved and it's within walking distance to Bridal Veil Falls Provincial Park."
In cooperation with the RV campground, discounts for the water park are available to campers staying at Bridal Falls. Though if you're just looking for a quick dip, you can still find it at the campground swimming pool, just one of the park's many amenities.
"Our park in particular has a lot of different areas that appeal to many different interests," said Demers. "We have a specific RV area with shrubs in between the sites for full privacy, then we have an area with lots of shade from the surrounding trees—plus full hookup—and we have lots of sites that are right by the pool, so they're great for families. We just have a variety of what people are looking for in amenities, and we are able to accommodate whatever they would like to see in the park."