Be well with the best bread in Chilliwack
Anita's Organic Mill in Chilliwack strive to provide the best stone ground flour from certified organic grain for their bread
by Lisa Crane —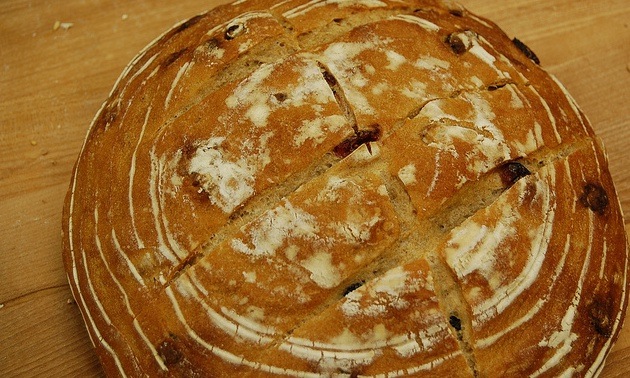 Nothing beats the smell of freshly baked bread, and the folks at Anita's Organic Mill in Chilliwack strive to provide the best stone ground flour from certified organic grain for those heavenly treats. The mill has been around for a few years, started by a baker (called Anita) who struggled to find good quality flours. When John and Dani MacKenzie bought the mill from Anita in 2005, they began a commitment based on their mantra: be well.
Their passion is focused on pure and wholesome food, and they sell a tantalizing array of flour, dried fruit, hot cereal and mixes, legumes and peas, whole grains, and rolled flakes and bran—all organic. Jayda Smith, sales account manager at Anita's, said that being a part of the business has truly changed her life.
"It has educated me more on the importance of organics, whole grains and healthy living, which has had the greatest effect at home in my baking and cooking with my family," said Smith.
The mill's products have a short milling time and are available to their customers promptly. The milling is a slow and low-temperature process, which makes for good protein levels and flavour. Anita's 100 per cent whole grain flour is just that: whole grain which includes the germ, the ingredient that gives it a great nutty flavour.
Anita's supplies many Canadian artisan bakeries and you can get your own Anita's products too. They are perfect for travellers: Morning Rush Instant Hot Cereal, Breakfast Boosts (such as the Ancient Grains Breakfast Boost) to liven up fruit and yogurt; and popular pancake mixes. Anita's has a test kitchen, said Smith, where they develop new ideas and recipes, and where their goal is great-tasting nutrition.
"We provide customers with new things to sample each day," said Smith.
At Anita's you can be assured that you are buying organic food free from pesticides and chemicals and the business is part of Get Local BC, which means that they purchase locally as much as possible.
Smith said that their monthly newsletter is another great way to get educated on products and always includes great recipes.
Anita's has an online store, or you can just front up to their mill on Yale Road in Chilliwack to check out their variety of bulk bin and packaged organic ingredients.