Top things to see and do in Chetwynd
Activities in the Chetwynd area are centred on recreation and fun
by Karen Kornelsen —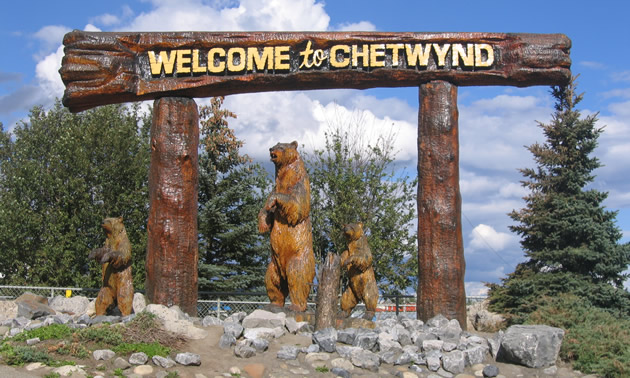 Chetwynd, known for its friendly residents, rolling hills and its crystal-clear lakes and rivers, is located on the eastern slope of the beautiful Rocky Mountains.
Erin Buckley, tourism co-ordinator at the Chetwynd Visitor Centre, said the district's population is only about 3,100 residents—but this cosy community still boasts plenty of activities that are perfect for the whole family.
Here are the top five things to do and see in Chetwynd, B.C.
1) Chetwynd International Chainsaw Carving Championship
Every year, Chetwynd holds its annual Chetwynd International Chainsaw Carving Championship on the second week of June. Artists from all over the world take part in this unique competition.
"We have 112 carvings right now throughout Chetwynd, with the newest ones always right in front of the visitor centre," said Buckley. "This year's championship promises to be a great time."
2) Hiking trails
If you're looking for a wonderful way to explore nature, there are numerous trails around town. Buckley said you can pick up an easy-to-read map at the visitor centre and find trails for hikers of every ability level. The trails can take five minutes to three hours, depending on what you choose.
3) Moberly Lake Provincial Park
Moberly Lake Provincial Park is located just 30 kilometres north of Chetwynd. It is a huge attraction that is popular among residents and visitors alike. It opens in mid-May each year and features campsites, a day-use picnicking area, summer cottages and two commercial restaurants and stores.
"It is our big draw for camping and fishing," said Buckley, " and northern pike and lake char are plentiful here. The lake and surrounding scenery are absolutely beautiful."
4) The Chetwynd and District Recreation Centre
The Chetwynd and District Recreation Centre is yet another huge attraction in the district. It features a rock climbing wall, a squash/racquetball/wallyball court, an indoor walking trail, a curling/hockey/skating rink, a giant chess board and a new outdoor skateboard and BMX park.
5) Golfing
There are two amazing golf courses in the area. Moberly Lake Golf Course is a challenging nine-hole golf course overlooking Moberly Lake. Natural Springs Golf Course is also a nine-hole course that runs along the stunning Sukunka River; a clubhouse, patio and banquet facilities are available here.
"Both courses have amazing views," said Buckley. "They are near by, challenging and offer fun for anyone who likes to hit the links."