Make Chemainus your port of call
Chemainus is a beautiful place to launch an ocean adventure to some of the less travelled Gulf Islands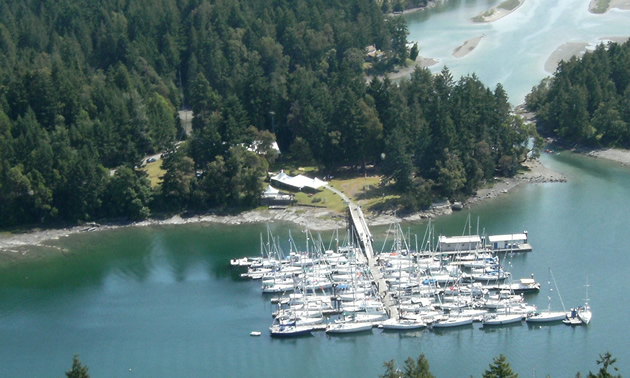 Chemainus is a beautiful place to launch an ocean adventure to some of the less travelled Gulf Islands. Backdropped by a cultural oasis of art, music, and a quaint downtown lifestyle, water activities at Chemainus can go for hours or days, and represent something unique and truly West Coast-inspired.
Locals and visitors to the town love the beach at Kin Park: a tucked-away haven for afternoon picnics, beachcombing and swimming. When the tide is low, the sandy beach stretches out to reveal tidal pools and an easy walk to Bird Rock, just off the shore.
It is also a great place to launch a kayak or a small boat for a shoreline cruise or longer adventure into the nearby islands.
Harmon Bootsma, manager of harbours for North Cowichan, said visitors to Chemainus often plan day and weekend trips off the beaten path.
"Tent Island is a good destination for small boat owners," said Bootsma. "It has nice beaches all around it. If people are more adventurous, they can go to Valdes or Wallace."
Both islands and others in the vicinity including Galiano and Decourcy offer spectacular day trips for swimming, hiking and picnicking, and each offers sheltered anchorage. The terrain is more rugged and less developed, and utility services vary.
A dream trip from Chemainus by kayak would be to leave from the harbour and paddle across Stuart Channel to side-by-side Thetis and Penelekut (formerly Kuper) islands, said Bootsma.
"You would take the channel between them and beyond that come out in Clam Bay and the Secretaries, which is a series of islands on that side. You end up at Wallace Island."
Telegraph Harbour on Thetis Island is also a good destination for kayakers, he added.
"You can also kayak on Stuart Channel along the shore towards Ladysmith or around Bear Point to Rocky Island," said Bootsma.
Kelli McDougal grew up visiting family on Thetis Island and knows its treasured coves and beaches well. Her favourite place is Pilky Point, where she went as a child to watch the sunset.
"It is all rocky crops and as kids we liked to climb there and it was also a place to relax," she said. "Off the shore there is a tiny island, a piece of rock really, that we used to call Little Hawaii."
Later in life, McDougal would launch a boat from Chemainus harbour for a day trip to Tent Island. She and her partner would head out towards their destination and stop about two-thirds of the way at a sinkhole to drop crab and prawn traps.
"Any fisherman in the area will know where to find that drop off," she said. "But if you have a depth finder it's pretty easy to find." The drop is about 270 feet at its deepest.
"After that we would head over to Tent Island and park there for a few hours, have a picnic," she said. "Kids have made swings in the trees and there is lots of summer activity. It's a nice place to go and relax because not just anybody goes over there–it's like-minded people doing like-minded things."
Afterwards the pair would return to pull up the crab traps and head back to Chemainus or over to Thetis.
Boaters to Thetis Island often come to stay at Telegraph Harbour Marina, which is family- and dog-friendly and offers everything from a soccer and volleyball to a tasty bakery and Sunday market.
Marina owner Tara Kaulback said people also come for the one-of-a-kind experience.
"There's a little honour store here where the lady leaves baking, jams and fresh lamb and you leave your money in a tin box. There's also an old-fashioned milkshake machine here that has been known for 50 years. So people also come for the ice cream and milkshakes."
In a power boat, the ride to Ganges on Salt Spring Island from Chemainus is also a beautiful day trip, especially on Saturdays when the tiny town hosts one of the largest farmers markets in the region.