Capturing historic attractions and everyday life in central Arizona
Beth Adams grew up in Camp Verde. She has snapped thousands of photos in and around her hometown over the years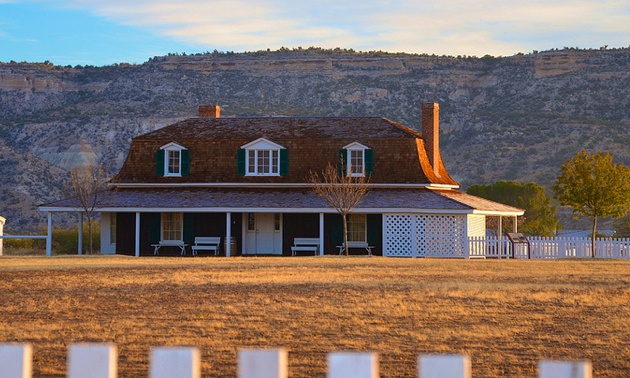 Located in the geographical center of Arizona, Camp Verde is a community rich with unique history and an endless list of places to visit. Considered a high desert, this region's mild climate helps make it a place people like to visit year round.
Local photographer Beth Adams grew up in Camp Verde. She has snapped thousands of photos in and around her hometown over the years, but has yet to run out of things to take pictures of.
"This area has so much to offer," said Adams. "There are lots of parks, limestone, mesquite, native plants, wildlife, old historical buildings and just neat places to check out."
Although the bulk of Adams's work is commercial, family and wedding photography, her passion is the desert landscape.
Ancient cliff dwelling
Montezuma Castle was literally built into the side of a cliff by the Sinagua people and overlooks the Verde Valley. It is made of adobe, stone and timber and is recognized as one of the best preserved cliff dwellings in the U.S.
"It is the biggest draw to this area because it basically represents the start of this area and highlights the culture," Adams said. "It's truly amazing to see, because it's not just the castle—there are plants, trees, walkways, a creek and artifacts offering a diverse range of things to take pictures of."
Adams suggests mid-morning as the best time to photograph Montezuma Castle, as that's when the sun creates sharp shadows and shows the most detailed contrast.
Montezuma Castle is located just off Interstate 17 at Highway 260 (exit 287) about 10 minutes north of Camp Verde.
A glimpse into Arizona military history
Travel back in time at Fort Verde State Park, a fort built as a base for U.S. Army scouts and soldiers in the 1860s. Several of the original buildings remain standing and the park organizes living history programs throughout the year. It's the best preserved example of an Indian Wars period fort in Arizona.
"Fort Verde is a historical and cultural experience," said Adams. "These buildings have been preserved inside and out, so you can also take pictures of furniture and artifacts or even the old shingles on the roof. There are so many other details and textures to capture images of, and as photographers it's good to challenge ourselves and find a different perspective. I have a great shot of a wagon wheel."
The buildings at Fort Verde State Park are well lit inside, but Adams indicated a flash may be required for some photography. She recommends daytime for taking pictures throughout the park. Fort Verde State Park sits on 12 acres at 125 East Hollamon Street in Camp Verde.
The heart and soul of Camp Verde
The Verde River, Arizona's only federally designated Wild and Scenic River, snakes through Camp Verde and residents are passionate about keeping it well-preserved. Kayaking, canoeing, fishing, birding, swimming and hiking are all popular activities along what is considered one of Arizona's treasures.
"The Verde River is why I live here," Adams said. "I love to go and I take my kids all the time and we kayak. And I love to take pictures there. The list of things to shoot is endless. There are trees, flowers, river turtles, otters, beavers, golden and bald eagles, hawks, herons and swallows."
Adams said the golden hour—late in the day right before sunset—is the best time to take photos at the river, because the lighting and colours are the best and often the wildlife is out. Early in the morning can also be good, as the sun is coming up and there is mist along the water.
The Verde River has three major access points in Camp Verde: the White Bridge where Arizona Highway 260 crosses the river, Beasley Flats via Forest Roads 574 and 529, and near the Childs Power Plant via Forest Roads 708 and 502.