Golfing or loafing—West Kootenay stay 'n' play golf courses for Rvers
Christina Lake and Castlegar golf courses welcome RVers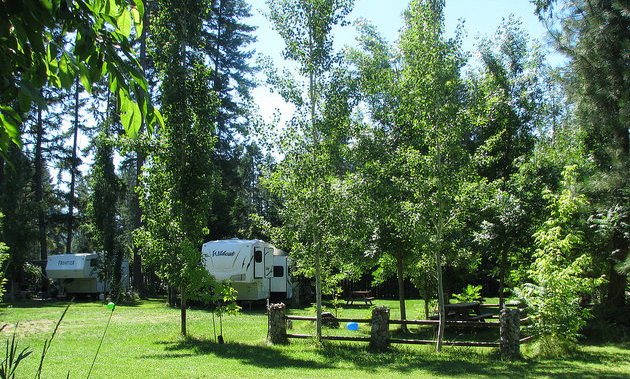 For RV travellers who wouldn't think of leaving home without their favourite golf clubs, the West Kootenay area of British Columbia offers a wealth of history, superb scenery and, best of all, some excellent courses to challenge the die-hard golfer. Two of them are presented here.
Mid-point between Calgary and Vancouver, the towns of Castlegar and Christina Lake are 625 kilometres either way and 80 kilometres from each other.
Exiting the traffic-congested cities, RVers from Vancouver take a combination of Highways 1 and 3, while RVers from Calgary access Highway 1 and the Crowsnest Pass.
Christina Lake Golf Club
Thirty years ago, what began as a nine-hole course was extended to 18 holes by Alberta's golf architect Les Furber and GDS Golf Course Design Services. Internationally-renowned for their work, the partners believe that golf strategy and shot values are paramount. "We maintain a strong balance between playability and challenge," said Furber, which describes the course at Christina Lake to a tee. Unique to this course are the black sand bunkers.
For beginners new to the game and for those who want to improve their swing, CPGA-certified instruction is available from golf pro Kevin Maffioli and other qualified teachers.
For spectators and golfers alike, the course is looking forward to hosting championship games throughout the year and the largest men's open tournament in the province this June.
Best of all for RVers is the club's brand-new 27-site RV park and a fully-outfitted pro shop, clubhouse and banquet facilities.
"Golfers and their families have an open invitation to come stay and play with us," said Maffioli.
Castlegar Golf Course
Situated near the Columbia River and rated four-star by Golf Digest, the Castlegar Golf Club and RV Park boasts an 18-hole, semi-private championship course and a full-service 20-site RV Park.
Pro Pat Biln, course superintendent Craig Stocker and chef Brian deVooght are looking forward to "having B.C.'s best players test their skills on the course" and welcome golfers and their families and friends to enjoy all of the club's amenities offered in their pro shop, restaurant and RV park.
Among other services, RVers will welcome the pet-friendly facility which now includes new washrooms with hot showers, 30- and 50-amp service, the on-site laundromat, firepits and more.
Details of a wide range of private, semi-private, individual and customized lessons are available on the club's website (www.golfcastlegar.com).
For RVers who want a complete break from their daily chores, chef deVooght and his staff at the Castlegar Clubhouse Restaurant provide mouth-watering breakfast, lunch and dinner menus to suit all tastes. Whether dine-in, take-out or banquet, offerings range throughout the day from a basic ham & egger to Mexican omelettes for breakfast, to a New York steak or a rack of lamb for dinner. Unusual and welcome is the fact that all prices include tax right up front.
All-in-all, whether they test their skills at one course, the other or both, or even spend their days just watching while enjoying the sunshine and scenery, RVers will appreciate a visit to the courses in one of the most beautiful parts of B.C.