Camrose: the Rose City is abloom with artists
Camrose offers both a theatre for the performing arts and a centre for artists
by Stephanie Warner —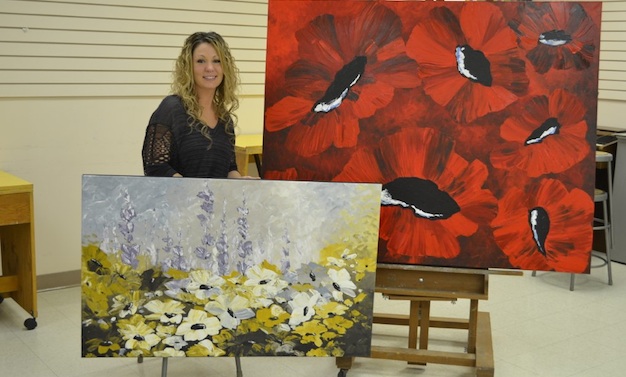 Camrose has long attracted visitors for its sprawling parks and abundant gardens. Nestled between sweeps of prairie and boreal forest, the picturesque city has become a hub for people with an artistic temperament—visual and performing artists alike.
Bailey Theatre
In terms of performing arts, a trip to the historic Bailey Theatre is not to be missed. Established by cattle rancher Camille David, the theatre was a fixture in the rough-and-tumble days of the early 20th century, providing a venue for bawdy travelling shows, political rallies and even boxing matches. The theatre was taken over by Stan David in the jazz era, hosting vaudeville performances, silent films and eventually "talkies." The striking art deco facade was a renovation of the 1940s, and the theatre's bright neon sign became an icon of Camrose's main street.
Nevertheless, the theatre fell into disuse in the 1990s, with the new Landmark multiplex theatres diverting people from the downtown to the commercial strip. A combination of philanthropy, government funding and hard work by the citizens of Camrose saw the theatre's reopening coincide with its centennial in May 2011.
The Bailey Theatre's program for the spring and summer will help you groove into the balmy prairie nights. Big Hank and a Fistful of Blues bring to mind the smoky atmosphere of the theatre's prohibition-era heyday. The Big River tribute to Johnny Cash will provide another blast from the past in mid-May. A more modern take on the blues will see Juno award winner Jack Semple bring his guitar virtuosity to the Bailey on April 26.
Chuck MacLean Arts Centre
When all of that dancing has worn you out, a stop at the Chuck MacLean Arts Centre will provide the perfect palate cleanser. Established in 1996, the centre provides residency and exhibition space for artists from all walks of life.
Camrose painter Tara Szott has benefited from the resources offered at the centre, including the summer's annual Art Walk. The event will allow her paintings to be exhibited around the city, along with those of other local artists. She describes Camrose as a hub for artist groups in the surrounding communities.
If you drop by the centre, you might find Szott putting the finishing touches on one of her enormous floral canvases. She describes the natural beauty of the area's landscape as a paradise for artists.
"I find central Alberta to be one of the most accessible places on earth to explore a wide range of geographical locations that allow artists of all types to find inspiration," said Szott. "In just a few hour's drive in any direction, you can place yourself in the majestic Rocky Mountains, the flat, sweeping plains of the prairies, the thick, northern forests or the badlands filled with hoodoos. Where else can you experience that kind of diversity all in the same day."