Get hooked on Camrose
Enjoy some fun in the sun fishing at one of the many lakes near Camrose
by Kimberly Schoenberger —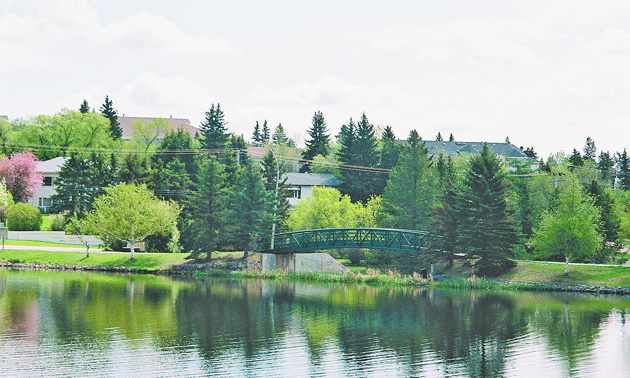 The city of Camrose, Alberta, is surrounded by an array of lakes perfect for cooling off in the summer, with Camrose County Nature Conservation Centre being one of the area's most beautiful attractions. There you can enjoy swimming, scuba diving, fishing, nature walks and birdwatching. Firepits and picnic areas can be found in the park. Take a break from the rush of everyday life and spend the afternoon lounging in the sun. The park is located just 20 minutes southeast of Camrose and is perfect for an enjoyable family experience.
Don't let the name put you off—Tillicum Beach Park on Dried Meat Lake is a beautiful place to enjoy the summer. There are seven different campsites on the lake, all equipped with power. There is a boat launch available, as well as barbecue pits and a fish-cleaning stand—just in case you have a successful day of fishing, in which case you can enjoy a freshly caught meal before a night under the stars.
For a quick cool-down within the city limits, there is a water park adjacent to the public pool that can be used at no charge.
Visitors who take a stroll around Mirror Lake, right in the heart of the city, can view muskrats, ducks and other water birds. In particular, Camrose is famous for its captivating swans on the various water bodies throughout the city.
Something else the city is recognized for is its delightful farmers market, which takes place every Saturday from 9 a.m. until 2 p.m. There, you can find an abundance of locally grown produce, homemade preserves and many other treasures.
If you just want to relax and enjoy the region's naturally beautiful countryside, then you won't regret a trip out to Camrose.