Culinary Camrose: Scandinavian delicacies and fresh farm produce
Keeping traditions alive through a love of food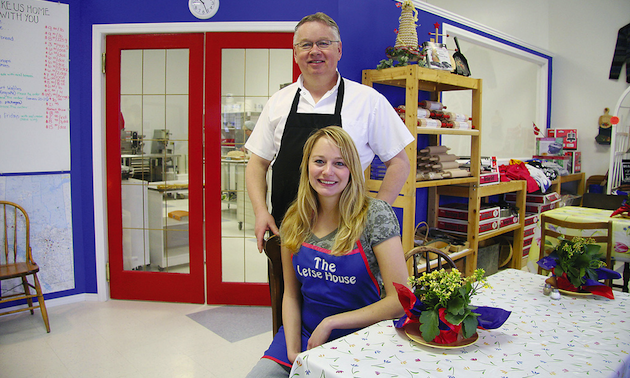 Camrose, Alberta, is an area rich in both culture and agriculture. When the two come together, an abundance of deliciously unique eating opportunities arise. Originally settled by immigrants from Norway and Sweden in search of fertile farmland, Camrose is a town where residents have not forgotten their roots. Two unique businesses in Camrose are doing a fine job of keeping traditions alive through the love of food.
The Lefse House
The official supplier of lefse to the Norwegian Consulate in Ottawa, the Lefse House takes Scandinavian cuisine seriously. Lefse, its signature dish, is a traditional Norwegian flatbread made with potatoes, and is a staple of the Norwegian diet. It can be eaten on its own with butter and sugar, but is also used in place of other breads in sandwiches and wraps.
Owned and operated by Bernell Odegard and his daughter Jane Beck, the Lefse house serves up authentic Scandinavian lunches to locals and visitors alike. Baked goods and prepared foods are available for takeout as well. Among the most popular takeaway meals is the lutefisk T.V. dinner.
For those that haven't experienced it, lutefisk is made by drying cod and preserving it with lye. Don't worry, after a three-week process of soaking and rinsing it is totally safe to eat and is, in fact, a real delicacy. According to Jane, "you either love it or hate it," and considering the success of the Lefse House's annual lutefisk dinner, a whole lot of folks really love it.
Not a lutefisk lover? The Lefse House has a great variety of sweet and savory treats to please any palate, from cream-filled krumkake to meat- and cheese-filled lefse wraps. When in Camrose, be sure to visit the Lefse House and refuel, Scandinavian style.
Country Accent Bistro and Market
With a wealth of dedicated farmers and producers literally on the doorstep, owner Malorie Aube wanted connect consumers with local suppliers. Today, Country Accent makes it easy with its bistro, online shopping service and culinary events.
Aube's mission is "connect your plate to the farm gate," offering consumers the option to buy and eat locally.
Country Accents offers an online shopping and delivery service. Customers can order meat, dairy and produce from the comfort of their homes and pick it up on delivery day. Not only does this beat a trip to a busy supermarket hands down, the food is incredibly fresh and the local economy is supported by local consumers.
For those passing through Camrose, consider recharging with a stop at the bistro for some locally grown gourmet goodies. The Smoky Valley goat cheese appetizer, for example, followed by one of their delicious sandwiches, is sure to ready any weary traveller for a few more hours on the road.