Camrose, Alberta does summer right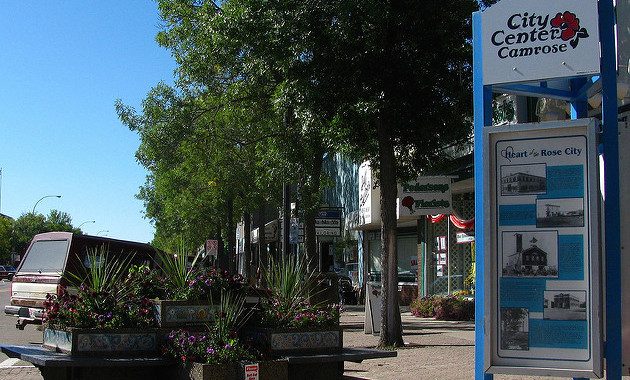 Camrose, Alberta, is a small town with a big punch. Billed as being "alive at the centre," and packed full of friendly faces, Camrose is a great place to kick up your feet on a summer trip. The town's hospitality and vivacious attitude alone is enough to keep visitors smiling. Quaint shops, summer markets, tea and cookies, alongside larger family-friendly events are just the tip of what Camrose has to offer.
Get your fix of small-town hospitality at these summer attractions
Big Valley Jamboree
Alberta's biggest summer country festival, Big Valley Jamboree (BVJ) has put Camrose on the map for over 20 years. Big Valley Jamboree draws from Camrose's neighbourly feel to create a "mini village" each summer for country lovers. Gather your best buds and pull on your old country boots for a long weekend of music, sun and relaxed, small-town vibes.
This year's headliners are Dierks Bentley, Blake Shelton and Carrie Underwood. But BVJ is so much more than your typical festival. Check out the marketplace, attend a song-writing workshop, watch a bull-riding event or turn up the adrenalin at an extreme motocross show. If
that sounds a little too intense, there's always the option to relax in a beer garden.
RV parking is available in the designated camping areas of the festival.
Driving instructions: From Calgary, follow Queen Elizabeth II North to Highway 13. Follow Highway 13 east towards Camrose. From Edmonton, follow Queen Elizabeth II South to Highway 13.
Buying tickets: Buy one-day general admission tickets for $110, or the whole weekend for $235.
When: The festival campground gates open Wednesday, July 27 at 8 a.m.. All attendees must leave by 9 p.m. on Sunday, July 31.
Website: www.bigvalleyjamboree.com
Heritage Railway Station and Park
The Camrose Heritage Railway Station and Park is the town's pride and joy, featuring a beautiful public garden, park and tea room. The station is now home to historical displays and archives, a library and a gift shop.
Guests can book a guided tour through the surrounding gardens, or explore the "old-fashioned" flowers on their own. The community park welcomes locals and visitors to spend quality family time. The quaint tea room serves homemade desserts and beverages on select days throughout the summer months. The station itself hosts many public events throughout the summer, but can host private events year-round.
Park your RV at the Camrose Exhibition Trail RV Park, just east of the station.
Driving Instructions: The station is located at 4407-47 Avenue, just off of Highway 13.
Fees: This historical station and park is free to the public, but runs on volunteer power and welcomes donations. Some events require a small fee.
Opening dates: The station is open seasonally, May to September, Tuesday to Saturday, from10 a.m. to 5 p.m. The tea room opens in July and August, Tuesday to Friday (self-serve), or Saturday for beverages and desserts.
Book an appointment: Call 780-672-3099.
Website: www.canadiannorthern.ca
Historic downtown
Camrose welcomes history buffs to experience its newly restored historic downtown. A simple walk down the main street really is a blast from the past, featuring colourful period houses and commercial buildings, plenty of greenery and comfortable spots to rest your feet.
Visitors wander through the streets themselves, or join guided walking tours to rediscover the past. The city's downtown combines history with an unmatched, newfound vitality. These old buildings house new boutiques, specialty shops, charming cafes and restaurants, but their history remains intact at the heart of the town.
As for events, a downtown street market runs on Thursdays from mid-June to September every year. Friendly vendors, musicians and shop owners make travellers feel like Camrose is their own hometown.