Boomtown culture resounds in Camrose and county
Bailey Theatre, Railway Heritage Museum and Park, Centennial Museum, Mirror Lake and more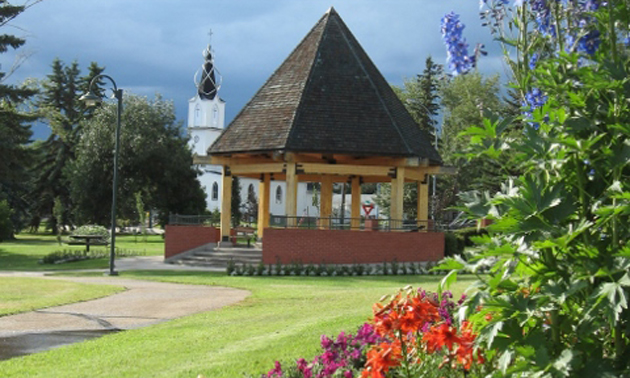 First settled in 1904, the city of Camrose in central Alberta has been a stopping point for travellers since the expansion of the railways. The city is said to have sprung to life overnight, and it features a distinctive boomtown style of architecture: grandly designed false fronts covering fairly humble buildings.
Today, Camrose is a proud pillar of the 340-kilometre Boomtown Trail, which encompasses 25 settlements from New Sarepta in the north to Bassano in the south.
According to Boomtown Trail chief executive officer Ken Duncan, the unique architecture of the buildings in Camrose and its wide main street have been preserved, offering an ideal escape for RVers.
"The Boomtown Trail highways are great for RVers, because you don't have all that traffic you have on Highway 2," he said. "It's a much more relaxed pace, and you've got the small-town atmosphere in all of the communities. Camrose is our largest centre at 17,000 people, but even that has the relaxed small-town atmosphere.
"That's what people are looking for when they're holidaying. They're not looking for that frantic, rushed pace of a big city."
And while the off-the-beaten-track region is a relaxed one, Duncan added that there are many points of interest celebrating the local culture.
"We've got everything from rodeos to bluegrass festival to farmers markets, art shows and sales," he said. "All of our communities are very unique and they all have their own features and special treasures."
Camrose highlights
According to Hazel Cail of Tourism Camrose, the highlights in the city include art, shopping, music, outdoor recreation and festivals, and natural places.
Cail suggested starting your Camrose adventure with a tour of the restored and refurbished historic Bailey Theatre, recognized as the oldest performing arts theatre in Alberta. The theatre features vaudeville, silent movies, political rallies, community dances and boxing. It was once described by Stephen Fearing, Canadian singer, songwriter and multiple Juno award winner with Blackie and the Rodeo Kings, as "ripe with the kind of atmosphere one can only get in an old venue, where musicians, actors and showboats of all shapes and sizes have been treading the boards for over a hundred years."
To learn more about the old venues and culture of Camrose, Cail suggested visiting one of two museums: the Railway Heritage Museum and Park and the Camrose and District Centennial Museum. Both offer tours from the May long weekend to the end of August.
Cail suggested taking the annual Art Walk that runs from June to August. Local and visiting artists display their works of art at ten different venues in the centre core of the city. In addition, several large sculptures can be viewed around Augustana University or Mirror Lake Park.
Of course, most RVers plan their visit around the Big Valley Jamboree, one of the largest music festivals on the continent. The 21st annual Big Valley Jamboree will take place August 1 to 4, 2013.
Cail said that other outdoor festivals include the Jaywalkers Jamboree, "when we close off Main Street for a three-block-long sidewalk sale complete with concession booths, plenty of great music, midway rides and games," as well as Canada Day, National Aboriginal Day, Founders Days and Machinery Days.
For more information, Cail said the Bill Fowler Visitor Information Centre in Mirror Lake Park is equipped to assist visitors.
"It also marks the focal point of the beautiful reflective Mirror Lake and an incredible system of parks and natural areas that wind around the lake and through the entire Stoney Creek Valley through the centre of the city," she said. "Over 39 kilometres of paved and shale walking trails offer an outstanding natural setting for walkers, mountain bikers and skiers alike, and is also home to many wild animals and species of birds including our local trumpeter swans and Polish mutes."
An annual Boomtown Trail travel guide is available at the centre and all visitor information centres in the province of Alberta. You can also download the guide as an app through iTunes.
"If you turn it on as you're driving down the highway, this thing will go off automatically if you come close to a community and it will alert you to what it has as far as its history and culture and some of the features of the community," said Duncan.
Visit Tourism Camrose or Boomtown Trail to learn more online.