Tantalize your tastebuds in Campbell River
Campbell River tempts foodies with trendy restaurants, fresh-caught seafood and agricultural products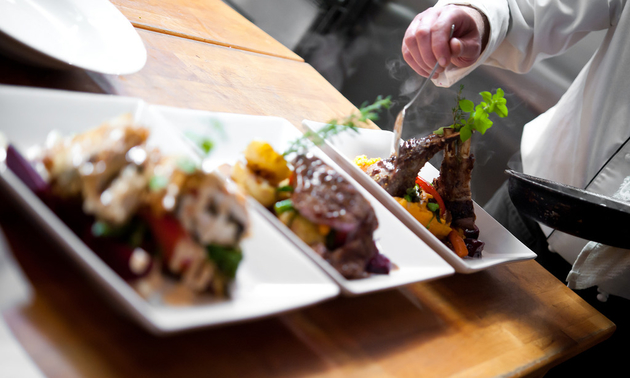 Campbell River boasts a mild climate and clean, fertile growing conditions, so the fresh local produce is of superior quality. The community is also known for its fishing industry, and has earned its title: the Salmon Capital of Canada. Combine that epic seafood with the wealth of local produce and artisanal farm products, and you have all the ingredients for some fabulous West Coast cuisine.
Not big on trendy eateries? Don't worry—you can be a Campbell River foodie whether you are a gourmet connoisseur, or just a lover of fresh flavours and rustic pub fare—there's something to satisfy every palate.
Restaurants with Pacific Coast charm
One benefit to RVing in Campbell River is that you can take the time to visit the city's dining hot spots. To start with, plan an outing to Dolphins Resort, and have breakfast or dinner at the Anglers Dining restaurant. The food here is high-end and the atmosphere is casual, yet romantic. The restaurant has oceanfront views, historic fishing decor and rustic charm at every turn, not to mention environmentally conscious practices that reduce its carbon footprint. Dine on the patio in summer, or spend a cozy winter evening next to the wood-burning fireplace. You can pair your meal with an option from the extensive wine list, or choose a creative cocktail to liven up your evening. Are special dietary needs a concern? No worries there—Anglers Dining offers several gluten-free and vegetarian dishes.
Breakfast is served daily from 8 a.m. to 11 a.m. weekdays, and until noon on weekends and statutory holidays. Dinner is served daily from 5 p.m. until 8 p.m. Breakfast is first-come, first-served (no reservations accepted), and dinner reservations are strongly recommended. To reserve a table for dinner, call 250-287-3066.
For pub fare, try Beach Fire Brewing & Nosh House. This is a craft brewery and restaurant in one, which might just be music to your ears. Come out for Small Batch Tuesdays, when the brewery offers creative flavours for those buying pints in-house. Just as an example, a recent selection was chocolate peanut butter red ale!
Beach Fire Brewing & Nosh House sources its food and beer ingredients locally whenever possible, using honey from beekeepers in the area, and fresh sustainable seafood.
More opportunities to taste local flavours
There's something special about visiting a farm and seeing where your food and drink comes from. Holly Hill Farm is one place where you can bring your entire family. While it's best known for its friendly animals and hands-on educational opportunities (you can spend hours snuggling cute critters—it's near impossible to leave without a smile on your face), you can also come here to shop for ethically produced free-range meats, eggs and fibre products.
If you plan to come to Campbell River during summer, we suggest making the trip in August—that's when the annual Salmon Festival takes place. This event incorporates logger sports, dance competitions, a variety of Highland games and, of course, a salmon barbecue that will have you craving a return trip every year.