Fishing with kids in Campbell River makes a great vacation even more memorable
Catch a big fish, explore a farmers market, learn about juvenile salmon and watch a novelty boat being built to be entered in a crazy boat race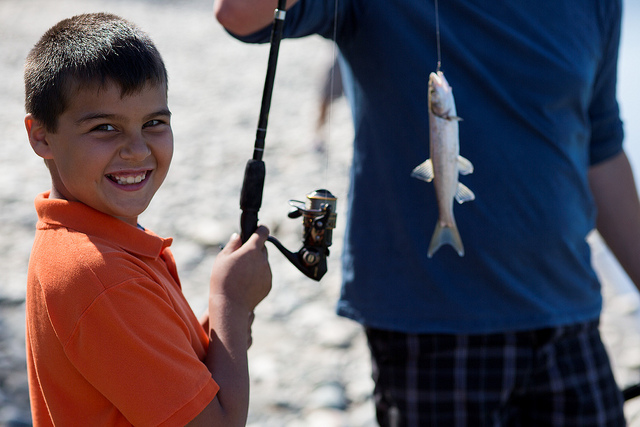 "Throw your hook into the water and reel in a big fish." Those are the stimulating instructions given from a grandparent to their grandchild as part of an unforgettable family vacation near Campbell River, Canada's Salmon Capital. The stunning natural setting is perfect for everyone wishing to create memories that every child and their parents or grandparents won't ever forget. Capturing the look on the child's face when they realize they actually have a fish on the end of the line—and having the ability to relive it over and over in the years to come—is a must.
Don't have a boat? This won't be a problem, since there are many choices of full-service fishing resorts ready to supply everything needed to catch your quota of fish as well as provide the perfect camping spot for the RV. As the Salmon Point Resort advertises, "It's all here waiting for you—a vacationing experience for the whole family."
Strolling along the sandy beach and the water's edge in search of shells and starfish or digging for clams is a lovely way to spend an afternoon. Discover seals and porpoises in the waters or possibly see a whale in the distance.
Pier and salmon hatchery
Bring the kids to the Discovery Pier, rent some fishing rods and enjoy either a half day or a full day of fishing. Treat everyone to an ice cream cone from the concession—these are famous with the locals. A fishing licence is required by everyone who is fishing, but the pier is also a wonderful place for strolling if you prefer to just to watch the buzz of activities around you.
Kids of all ages love to throw a line in the water with dreams of catching a fish on their hook. They don't always understand where that fish came from though. To learn more about the fish and to actually see juvenile salmon, visit the Quinsam Salmon Hatchery any day of the week and take a self-guided tour. Open year round and always interesting, the hatchery gets even more exciting from mid-August to mid-November when the salmon are returning. It's an appealing place for all ages, even for parents and grandparents.
It's impossible not to have a great fish story to take home with you from Campbell River; everyone will have something to talk about and remember fondly from this ultimate family vacation destination. It's interesting how the size of the fish that got away tends to grow dramatically with time. I wonder why that is?