Campbell River with a camera
Photographers with an eye for natural beauty will love visiting Campbell River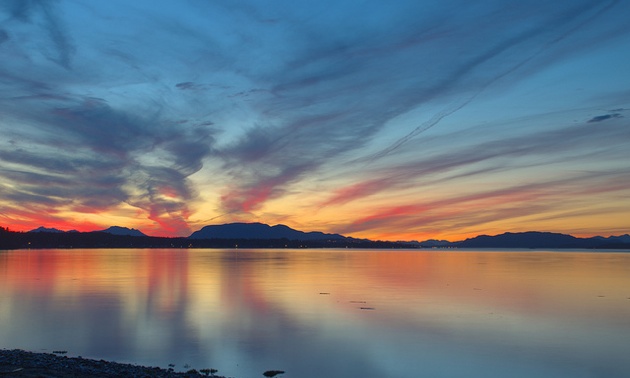 Photographers with an eye for natural beauty will love visiting Campbell River, where driftwood beaches, rocky coastlines and abundant wildlife provide depth and dimension to photographic escapades.
Kathy Paynter, B.C. born hobby photographer, has loved honing her craft in Campbell River where she currently resides—especially near the ocean.
"The ocean is always changing colours, waves, tides, stormy weather, fog, clouds, lots of rocks, driftwood, reflections—so just get out there," she said.
Oyster Bay Shoreline Park
This popular day-use picnic area offers easy access to the beach and a birding area, where Paynter said it's possible to take the best sunset photos because it has great reflections. The lights of Campbell River, the mainland mountains and Quadra Island are visible.
When shooting during midday, use ND or polarizer filters to control your light and deepen the colours of the water, Paynter recommends.
"Or slow down your shutter speed to highlight the effects of the motion of the water," she said.
Rotary Beach Park
A beautiful sloped beach provides sweeping angles of water and of huge rocks that are most prominent during low tide. Tidal pools with small crabs, seagulls and other shore birds create excellent opportunities for micro and wildlife shots, and an endless supply of driftwood makes this a great location for a beach fire and privacy.
Darkness sets quickly at Rotary Beach and its location behind a huge ridge means sunset pictures are less available, said Paynter. Because some of the beach is rocky, she recommends a sturdy tripod to keep your camera from tipping over onto the rocks. Wear sturdy shoes and have a pair of rubber boots on hand in case the mystery of a tidal pool proves irresistible.
The Rotary Seawalk
Take an easy stroll along a flat, paved walkway with quick access to the ocean. Just a few steps from the path is a mosaic of rocks, driftwood and seaweed for some ideal West Coast themed pictures.
Paynter carries a small folding stool at all times so she can sit and observe the beach or use it to keep camera equipment dry and off the rocks.