Make Parker Dam the starting point for your holiday
Get in touch with local history at this significant landmark, then explore the outdoor paradise all around it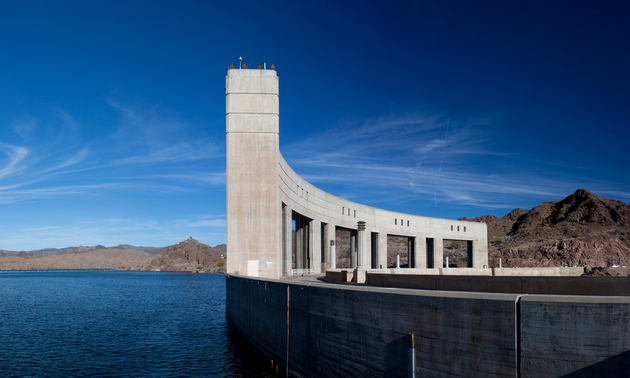 If you're RVing near Parker Dam, you can get your history fix and then set out to see some natural beauty.
Straddling the Colorado River, the Parker Dam is a concrete, arch-gravity dam that spans across the Arizona/California border. It is the deepest structure of its kind in the world, measuring 98 metres high (72 metres of which are below the riverbed and out of sight). The Bureau of Reclamation had it built between 1934 and 1938 to generate hydroelectric power and create a reservoir (which became known as Lake Havasu). The dam can store more than 210 billion U.S. gallons of water!
Once you've taken in this massive landmark and snapped some photos, you can head out to one of the nearby communities or outdoor recreation zones.
Find geological marvels and more in Blythe
Blythe is a cozy California city just an hour and fifteen minutes' drive from Parker Dam. Located in the Palo Verde Valley, Blythe is in the midst of a stunning desert landscape. Rock hounds love to come here to find geodes and other treasures, and there are several places to go on hikes or dirt bike rides.
Just north of town, you can see the Blythe Intaglios, which are enormous geoglyphs that have been carved into the ground. The biggest one is approximately 50 metres long.
The Colorado River Recreation Area offers opportunities as well. Fishing and boating are popular activities, and the wilderness areas around the river are perfect for everything from hunting and horseback riding to birdwatching.
The City of Blythe is also home to Todd Park (which includes the Big Foot Skateboard Park), Mayflower Park (which has picnic areas, barbecue grills and fishing spots to entice visitors) and the 18-hole Blythe Municipal Golf Course.