Cache Creek welcomes you
Cache Creek, B.C., has some sweet amenities along with being a convenient refueling stop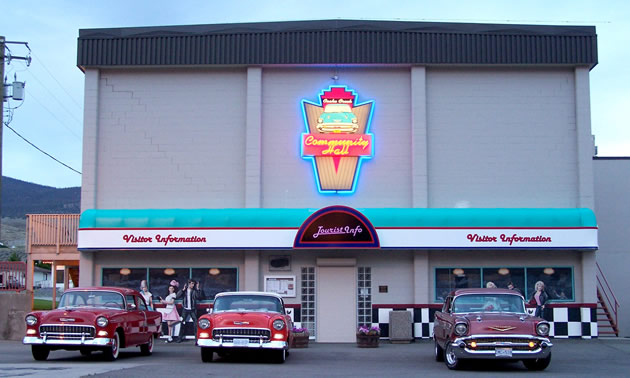 The village of Cache Creek is located in a narrow, semi-arid belt in south-central B.C., making it a hub for a variety of outdoor recreation options for the camper, hiker, cyclist, fisher, hiker and sledder. Ashcroft, Kamloops, Merritt, 100 Mile House and Lillooet all lie within a two-hour drive from Cache Creek and are good options for day trips. The village itself also offers some attractive options.
Try out the fitness amenities
The public swimming pool, located in Cache Creek Recreation Park, operates from May to September, and—shockingly—it's free to all comers. There is an outdoor area with fitness equipment available in the park and a walkway all around the park. The Bonaparte River runs along the edge of the park, and the riverbank is a pleasant lounging and picnic area. A fitness centre in the basement of the community hall, staffed by volunteers, is free as well—you just need to confirm the hours of operation.
Go to the races
On selected weekends from late April through September, drag races are held at the Eagle Motorplex drag strip near Cache Creek. If you're a fan of the noise, smoke and excitement of the racetrack—or even if you've never seen a drag race—the spectacle of two revved-up cars screaming down a short track, trying to be the first over the finish line, is exhilarating. The biggest drag competition takes place annually during Graffiti Days, a weekend that focuses on music and cars from the '50s and '60s. It takes place during the second weekend in June, when the Langley Loafers come to town, and is followed by a public barbecue and an old-time sock hop.
Take a hike with your camera
In the vicinity of Cache Creek the desert-like terrain offers some dramatic photo opportunities. Juniper Beach Provincial Park and Arrowstone Provincial Park both lie just a short drive from Cache Creek, and both offer scenery to delight the nature photographer. Rugged hiking trails will take you into the woods for bird and wildlife viewing and the chance to identify the flora of the area.