Cache Creek offers many opportunities for dramatic scenery photos
The rolling hillsides surrounding Cache Creek are covered with cactus and sagebrush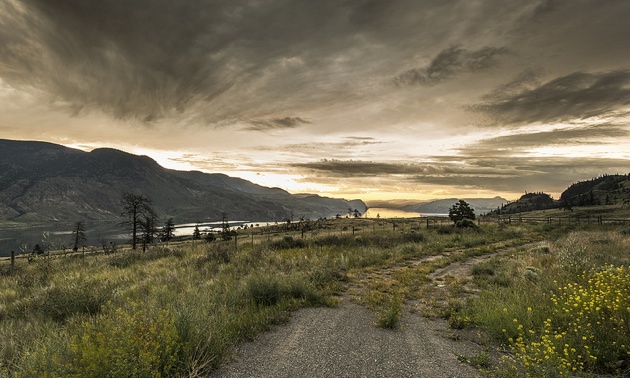 Cache Creek may not appear to be a photographer's destination at first. But slowing down and taking a closer look will quickly make it evident there are many opportunities for taking attention-grabbing scenic photos mixed with a little history and a bit of action.
Scenic shots
Although Evan Spellman doesn't live in Cache Creek, he has travelled through this area a great deal in search of fascinating photo scenes and has never been disappointed.
"I really like the area just leaving Cache Creek on Highway 1 heading towards Kamloops," said Spellman. "As you travel up the hill and arrive on the flats, the farm scene is very interesting. And by taking some of the side roads, it's possible to get different angles in every direction.
"I did some sunset photos there and it's just gorgeous as you look out over the farms," said Spellman. "There's beautiful light at sunset and of course the morning light is good too."
Pull off to the side of the road and look around, because there is a lot to see.
Sagebrush
The rolling hillsides surrounding Cache Creek are covered with sagebrush and will provide an exceptional subject for taking pictures, especially after a rain. Spellman arrived here at the end of June and there had been a substantial amount of rain.
"I found it amazing the way the sagebrush was so much greener than normal," said Spellman. "And with the different lighting conditions I took some fantastic shots."
He believes muted light or storm light is the best for taking photos of the sagebrush, prickly cactus and surrounding countryside.
Historic sites
Not only does Cache Creek have an interesting and rugged terrain, but there are still signs of its colourful past as a rest stop for miners who travelled through here on their way to the gold fields. The area has been known for ranching and mining, and long before the Gold Rush it was home to the Shuswap First Nations. There's still evidence of the old water flumes built to take water to the mines, and they can be seen along the hillside on the left hand side by following the highway towards Kamloops for a short way. Bring along a good telephoto and a wide-angle lens to take advantage of the barns, wooden fences, water flumes and range land, all providing out-of-the-ordinary scenes at different times of the day.
Action photography
Practice taking action shots by attending some of the local events. The talented cowboys and imposing livestock at the Ashcroft Stampede just south of Cache Creek in June or the Deadman's Creek Rodeo to the east of town held in the spring are both full of action and activity. Bring your tripod and keep the camera steady to capture your moving subjects and keep practicing until you get that perfect shot.