Dive in to Burnaby, B.C.
Canoe imagine how much fun you'll have?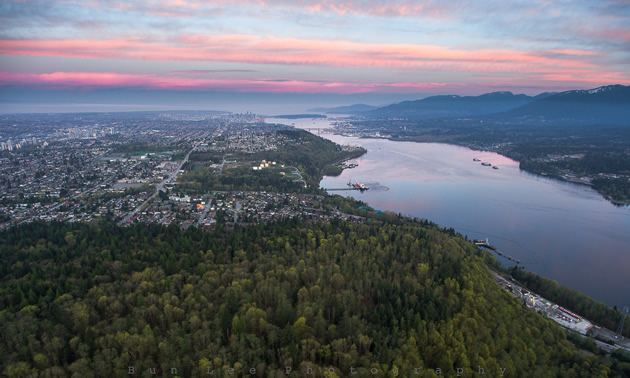 The Metro Vancouver area is lucky enough to not only have the Salish Sea beside it, but also inlets, coves and harbours to explore. Being so close to the water may have the occasional downside (fishy, salty winds and rain, anyone?), but the ability to enjoy getting out on the water or in it at a moment's notice is a gift. Here are some of the best ways to enjoy all that Mother Nature has given Burnaby.
Burrard Inlet is the eastern arm of the Strait of Georgia, and its waters flow to Burnaby and up Indian Arm. It forms the Vancouver Harbour, and creates many opportunities to incorporate water into outdoor activities. The trails and beaches around the inlet make great picnic areas, and places to watch the ships come in and out.
Barnet Marine Park gives rewarding inlet views to those who come for a walk, a swim or a fishing trip. This smaller beach is a great picnicking spot, and even has a beach cafe in case you forget to bring the picnic basket.
Lynn Canyon Park comes with its own suspension bridge. In addition to the bridge (which swings 50 metres above Lynn Canyon), a hiking trail and picnicking spots, Lynn Canyon Park also has several popular swimming holes for people of all ages to enjoy.
The Sea Dragon Charters company has several options when it comes to getting wet. They offer snorkeling, kayaking, scuba diving and sightseeing tours. There is something for everyone, depending on how adventurous you're feeling. The kayaking and snorkeling tour starts in Horseshoe Bay, and involves observing and playing with seals in their natural habitat. The tour allows you to choose to kayak, snorkel or both. The boat tour takes you to explore Vancouver's first artificial reef, the HNCS Annapolis (a former 400-foot Canadian destroyer).
Deep Cove is a kayaker's, hiker's and foodie's dream come true. There are kayaking tours and rentable equipment available for those wanting to give it a try. Many restaurants and doughnut shops call this area home. The harbour provides the perfectly sheltered place to get the hang of canoeing or kayaking on open water. Cates Park is a part of the Deep Cove area, and has a hiking trail along the waterfront. The boat launches in both Deep Cove and along the water in Cates Park give access to Indian Arm, a salt-water fjord that travels farther into the province. Travelling Indian Arm by canoe or kayak can last anywhere from one to four days, depending on how far up the 18-kilometre fjord you go.
Burnaby Tours and Charters has several options when it comes to tour destinations. The whale-watching tour in particular gets you out on the water and over to Steveston Village during its eight-hour length. The Squamish River rafting and gondola option is great for rafting newbies. If you prefer something a little less wet, the company also has a wine tour option.
Burnaby Lake Regional Nature Reserve is one of the best places to see great blue herons, bald eagles, belted kingfishers, osprey and even some rarer birds like the small green-backed heron. You can see turtles, beavers and ducks feeding from your kayak or canoe, or from the permanent watchtower.
The Prince of Whales Whale Watching tour company has two locations near Burnaby, so it's easy to find yourself on a catamaran, surface-piercing monohull or Zodiac-style rigid hull inflatable boat, going in search of anything with fins.
In nearby Surrey, be sure to check out Crescent Beach. When the tide is out, the sandy beach becomes a great play area for kids, perfect for sandcastles and exploring. The rockier upper beach is great for walks, solo or with your travelling companion. This beach is a great docking area for kayaks, canoes and paddle boards. The area is a prime spot for picnicking or sunbathing.
To learn more about how you can experience the Burnaby surf this summer, visit the city's tourism website.