A whole new world
Visit the striking landscapes of Dinosaur Provincial Park and you may even stumble upon a fossil or two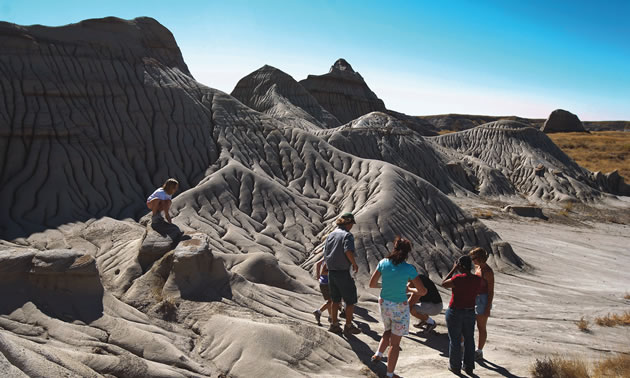 Home to the richest fossil site in the world for the late Cretaceous period and Canada's largest badlands, Dinosaur Provincial Park is a place that delights campers and paleontologists alike.
Throughout history, this area has been known by variations of the term "badlands" by both First Nations and early French explorers. The area, which lies 48 kilometres northeast of Brooks, Alberta, is so named for its hoodoos and the dry, desert-like conditions that exist there. This dry sandstone is susceptible to erosion, making it relatively easy for hunters of fossils and adventurers to find what they're looking for—and through the tours and programs offered by the park's visitor centre, you can discover this provincial park in a number of different ways.
"There is new material being found here every year," said Donna Martin, co-ordinator at the visitor centre, "especially after a rain, which helps to wash fossils out and helps paleontologists find new and interesting fossils."
And if the find proves interesting enough, Martin said, it might even be slated to be added to the current list of dig sites that dot the park's landscape.
"They don't necessarily dig out everything that they find, only those fossils that they deem quite unique," said Martin, "because there is just so much to find, they can't possibly dig it all."
That's why, Martin added, when visitors go out on tours and hikes through the area, they'll practically step on fossils at every turn, "because that's just how rich the site is."
The park covers an area of 80 square kilometres and runs 26 kilometres along both the north and south sides of the Red Deer River. The unique and other-worldly aspects of the park—as well as its remarkable finds and contributions to paleontological research—saw Dinosaur Provincial Park added to the list of UNESCO World Heritage Sites in 1979; it is one of only 936 properties listed by the United Nations as having "outstanding universal value."
Researchers from the Royal Tyrrell Museum (located at Drumheller, 2 1/2 hours northwest of the park), the University of Alberta and a number of other universities across the country visit the park each summer for a variety of fieldwork, including palaeontology, geology and biology.
Exhibits about the dinosaurs and the fossils that have been discovered as well as a host of information on the natural history of the area's plant and animal life can be found at the visitor centre. But perhaps one of the most exciting aspects is the different tours and programs available to visitors. There are tours geared to families, hikers, explorers and photographers—including the recently added Sunset Tour, which gives visitors the chance to see exquisite vistas in the evening light.

The visitor centre also provides opportunities for budding paleontologists to join in an actual research dig.
"For those 14 years and up, we have a single-day, a two-day and a three-day dig," said Martin. "We take participants into Bonebed 30—where we are currently finding Centrosaurus material. (By) taking only six people per dig program, this gives them a very unique one-on-one experience—and for some visitors, it's an unparalleled opportunity to cross a much-anticipated item off their bucket list."
Martin cautions that because of the popularity of the park's tours, they often sell out, so to avoid disappointment, visitors should book either online or by phone 403-378-4344 as soon as they know their travelling dates.
While walking where dinosaurs once roamed is sure to thrill even the most discerning traveller, the wonder and beauty of the park itself will no doubt impress all who visit.

"People are just blown away by the scenery when they drive down from the viewpoint into the river valley where the visitor centre and the campground are located," said Martin. "For many, it's like seeing a whole new world."