Top things to see and do in Bisbee
This little town has a wide selection of activities on offer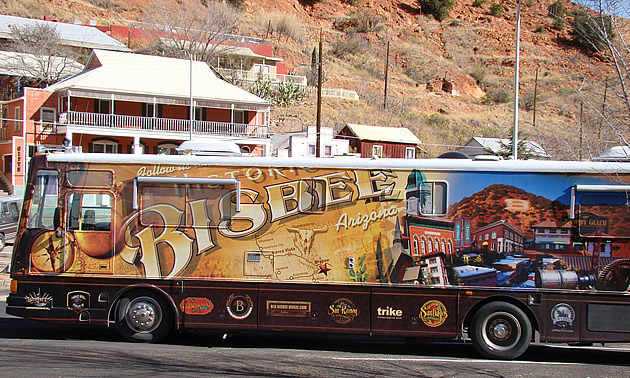 In Southeastern Arizona, the little town of Bisbee has been described as quaint, quirky, rustic, historic and trendy. Bisbee is all of those things and more. Originally, Bisbee was a copper mining town, becoming the largest city (population: 20,000) between St. Louis and San Francisco. Bisbee is now an artist community and historical tourist destination—and well worth a visit.
1. Explore Old Bisbee
In the 1970s, the Phelps Dodge Corporation closed its mine and Bisbee was forced to reinvent itself. Today, Bisbee has become home to artists, writers, artisans, musicians and photographers. The town boasts numerous art galleries as well as three museums. Old Bisbee is lined with art galleries, antique stores, jewelry stores, souvenir shops and coffee houses. Enjoy seeing the old saloons and former brothels in Brewery Gulch.
2. Take a mine tour
There are two mine tours available. One tour explores the open pit mine known as Lavender Pit. Located along Highway 80, the mine covers 300 acres and descends 950 feet. The second tour is of the Copper Queen Mine across the highway. Boarding a train, you travel 1,800 feet into the centre of the Mule Mountains. Hard hats and lanterns are provided. Reservations recommended. Dig in!
3. Visit the Mining and Historical Museum
The museum in the centre of town occupies the original offices of the Copper Queen Consolidated Mining Company. It is a National Registered Landmark and (since 1998), is part of the Smithsonian Institution's Affiliation Program. This first-class facility tells the story of Bisbee and how mining was carried out since the 1880s.
4. Visit the Bisbee County Courthouse.
This unique courthouse was constructed in 1931 when art deco was the architectural fashion of public buildings. If visiting a courthouse does not seem interesting, check out the story of the ghost of Judge John Ross, who died in 1945 and is reported to roam the hallways. If you want more ghosts experiences, sign up for the Old Bisbee Ghost Tour.
5. Take a walking tour
One of the best ways to experience Bisbee is a walking tour, with a local historian providing the colour commentary. The tour is approximately 10 kilometres through the narrow streets, steep stairways and Victorian style buildings. Tours can be modified by request. If you like walking uphill, every October brings a local festival, The Great Bisbee Stair Climb. Be prepared for 1,000 steps!