Easy as pie
Could you eat a cream pie without your hands? Find out in this annual contest
by Glynis Fediuk —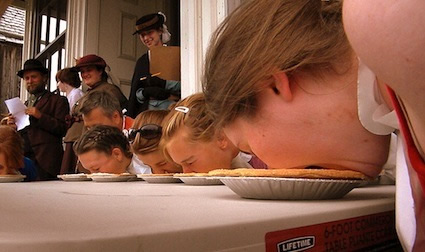 Everyone likes pie—but some people really like pie. These are the kind of people you might see at the annual pie-eating contest at Barkerville Historic Town. It's held by the Goldfield Bakery, and the rules are simple: no hands. Judges are standing by to see who finishes the fastest. Kids are given smaller portions, but adults had best arrive with empty stomachs. There are prizes for first-, second- and third-place finishers, but the emphasis is on having a fun time.
"The bakery portrays the 1930s in Barkerville," said Barbara Cirotto, the owner of Goldfield Bakery. "Pie-eating contests were quite popular back then, so I thought it would be fun to do."
The pies are generally of the cream variety and large crowds gather to witness contestants getting messy. Cirotto said it's impossible to judge who's going to be the winner, particularly in the kids' categories; the smallest kids might pack away their pie the fastest. The contest is held in conjunction with Williams Creek Sports Day, a fun event with gold rush era athletics and games. And if the egg-and-spoon race competitors work up an appetite, there's an easy solution.
"I usually bake a few extra pies because there's always some last-minute race people who want to participate," said Cirotto.