Treasure for Trekkies
Vulcan is an obvious must-see for Star Trek fans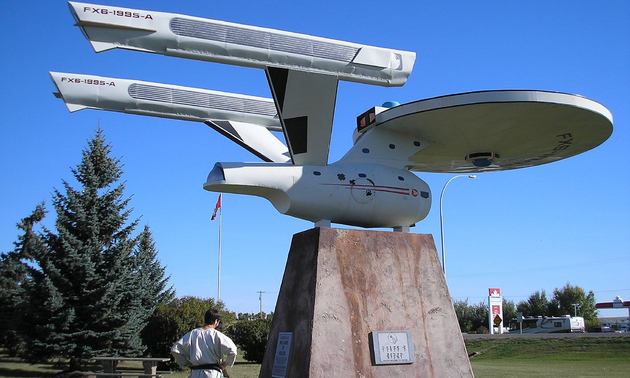 If you're driving through Vulcan, you will undoubtedly notice the space-age theme of the town. While it was given its moniker by CP Rail (after the Roman god of fire and forge), the name Vulcan has a decidedly different association nowadays. The locals have embraced their Star Trek loving visitors, and it shows in their tourist attractions.
Even the visitor information centre was built to look like a landed space station. It doubles as a museum with an impressive collection of Star Trek memorabilia, a themed souvenir shop and floor-to-ceiling murals that will make you feel as though you've stepped into a sci-fi movie. The captain and crew members on staff will be there to answer your questions about Vulcan.
How it all began
How did Vulcan go from being a lesser-known agricultural town to being known as the Star Trek capital of Canada?
It began after Star Trek: The Original Series captivated audiences in the 1960s. As any Trekkie can tell you, Vulcan was the home planet of one of the series' most popular characters, Mr. Spock.
As the television show became more famous, organizations in the town of Vulcan saw an irresistible rebranding opportunity. The community evolved to become a full-fledged tourist destination, and in the late 1980s and early 1990s, the Vulcan Association of Science and Trek (VAST) was established to further this goal.
Vul-CON, the very first Star Trek convention to take place in Vulcan, was held in 1992. In 1995, the Vulcan Star Ship was unveiled. This roadside attraction was modeled after the original star ship in the series. In autumn of 1998, the Vulcan Tourism and Trek Station was constructed. By 2009, the town became officially licensed with CBS, and earned the title of Official Star Trek Capital of Canada.
All of these additions were cause for celebration, but nothing could top what happened on April 23rd, 2010. On that day, Leonard Nimoy (the legendary actor who played Mr. Spock), made his first trip "home" to the town of Vulcan. Fans came from all over Canada by the thousands, to see one of their heroes in this aptly named community.