Not just for summer
Parkbridge RV Camping and Cottage Resorts offers 40 locations across Canada.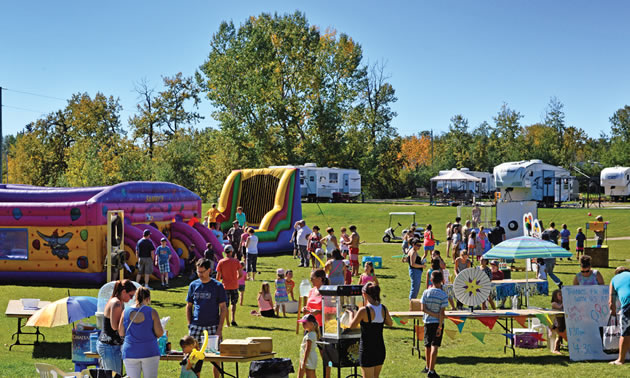 If there's an overall theme for the 40 Parkbridge Cottage & RV resort sites across Canada, it's "Memories are made here."
As Canada's leading owner, operator and developer of residential and recreational land lease communities across the country, Parkbridge has been providing vibrant and affordable communities for people to live, retire and vacation since 1998.
Parkbridge's 40 RV and cottage resort properties provide memorable getaways for seasonal and overnight guests. In stunning, picturesque locations, our resorts are where people want to play, recharge and make memories.
From B.C. to Nova Scotia, Parkbridge's 75 vibrant residential communities offer an attractive option for retirees looking to downsize and families looking for an affordable home. These communities are well-managed with quality amenities, activities and services for active and community-minded residents.
Here are just 2 of Parkbridge's Resorts worth your visit - Pine Lake and Rondalyn Resort:
Central Alberta's Pine Lake Leisure Campground & RV Resort is a favourite summertime destination for many Alberta families. The park covers 30 lakefront hectares (75 acres), with 400 seasonal RV sites and 10 rental cabins that are the summer home for a laid-back beach community.
"I just love seeing the kids running around the park, giggling and having fun," said resident manager/grandpa Darcy DuBois. "It's nice to give them this safe place."
Many guests who return to Pine Lake year after year enjoy the convenience of storing their RVs on site throughout the winter.
Far to the west, in the lush woodlands of Vancouver Island's eastern edge, Rondalyn Resort offers four-season RV sites and cottages along pretty Haslam Creek. The resort's amenities include a well-appointed clubhouse, a four-season hot tub, a swimming pool, an on-site golf course and easily accessed nature trails.
Manager Gerlind Wunsch loves to observe the restorative effects of seclusion, peace and nature's embrace on the families who come to stay at Rondalyn.
In the winter, Rondalyn is the private domain of the guests who inhabit about 30 year-round sites. The small community of Ladysmith is just five minutes from Rondalyn, and the amenities and attractions of Nanaimo are just 20 kilometres away.
For more information, please visit ParkbridgeResorts.com.