History and scenery collide in the town of Chicken
You won't even have to set your camera's tone to sepia to get that old time feel here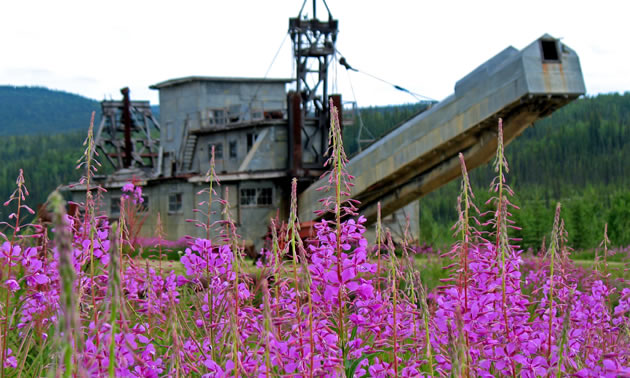 Whether you're stopping in for the night or spending a few days, be sure to have your camera handy when visiting the town of Chicken Alaska. From quirky signposts and rustic buildings to pastoral countryside and Alaska wildlife, the photo opportunities in and around this small town will impress.
The Pedro Dredge
To see how gold miners operated back in the day, visit the Pedro Dredge. Located at the Chicken Gold Camp & Outpost, the Pedro Dredge is now a national historic site. It was originally built to mine Pedro Creek near Fairbanks, but it was later disassembled and trucked to Chicken Creek. Tours of the dredge are offered daily throughout the summer months.
Mr. Eggee
Standing watch over the Pedro Dredge is Mr. Eggee—a larger-than-life metal statue of the town's namesake. No visit to Chicken would be complete without getting your picture taken with this Alaska icon.
Taylor Mountain
Mike Busby is the owner of the Chicken Gold Camp & Outpost. An avid photographer, Busby said one of his favourite spots to capture is on the road leading up to Taylor Mountain, which starts about eight kilometres south of Chicken.
July is a great time to take photos of the backcountry, since that is when the fireweed flower is in bloom. Busby said there are several spots along the Taylor Highway and right in the town of Chicken to find patches of this vibrant purple flower to photograph.
Fortymile River
For a chance at capturing some Alaska wildlife, such as moose and caribou, Busby suggests taking a float trip down the Fortymile River. The experience will also provide opportunities to see the Cowden Dredge, which is two miles below the town of Chicken.
Did you know?
The town of Chicken popped up when gold was discovered in 1896. By 1900, it had reached a peak population of 400. Rumour has it that the town got its name from the miners who couldn't decide on the proper spelling of the word Ptarmigan—so they called it Chicken instead.
The name stuck, but most of the town's inhabitants did not. Today, the town's population ranges from four in the winter to 17 in the summertime. But don't let the numbers fool you; this town has more than enough personality and heart to leave you with a lasting impression.