The adventure capital of Alaska
Wild beauty and stunning views of the majestic wilderness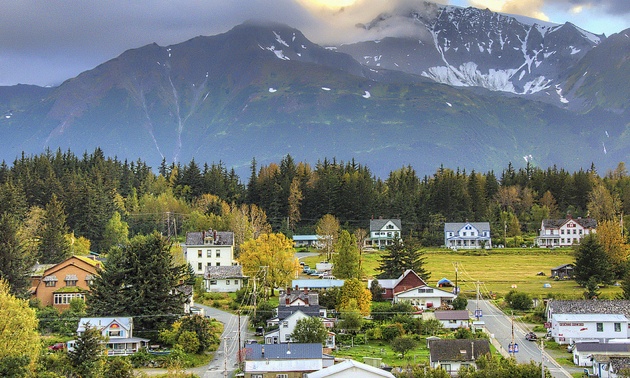 Haines and its surrounding areas beckon, with less emphasis on fanfare and more on experiencing wild beauty where visitors like amateur photographer Larry Bradfish can walk in the footsteps of John Muir, whether it's Yosemite hikes, climbing the Mountaineers' Route of Mt. Whitney or climbing Mt. Rainier.
Photo op: Haines Waterfront
Haines' waterfront and harbour offer stunning views of the majestic wilderness landscape in all directions. Watch for porpoises in the crystal clear waters or see eagles overhead, and the Northern Lights appear frequently between September and May. Families and explorers will enjoy the beach front and several restaurants and museums cap off an exceptional day.
Directions: Haines Highway 7 leads straight to the waterfront on Front Street.
Photo tip: "Early mornings and sunsets often provide the most interesting light," said Bradfish. Obtaining proper exposures during these times can be challenging because of the wide range of exposures; however, he recommends using a tripod or a very steady hand and trying multiple shots of the same subject at different exposures.
"Use the auto-bracketing feature on your camera to make this task easier," he said. "Combine the photographs using a photo editor that can prepare high dynamic range (HDR) photos."
Some cameras can also prepare HDR photos as part of their internal features, and the results can reveal details not present in a single exposure photo that can be truly striking.
Photo op: Fort William Seward
Fort Seward is an historical neighbourhood established in the early 1900s because of a border dispute with Canada. Most of the original buildings, displaying period architecture and intriguing cultural sights, are still standing and are used as residences, accommodations, restaurants, and galleries. Visit the Sheldon Museum in Haines for information and a walking four of the fort.
Directions: Fort William Seward is located on Fort Seward Drive in the center of Haines. Follow Haines Highway 7 into Haines and follow the signs to the Fort.
Photo tip: Don't be afraid to use a photo editor to enhance your photos—this can transform a bad photo into a better photo and a good photo into a great photo.
"Use the cropping feature to reframe the composition of the photo and to straighten crooked photos," said Bradfish. "Enhance the brightness, colour and details of your photos, especially where the photos were shot in poor or flat lighting conditions, such as the conditions I experienced when photographing the buildings at Fort William H. Seward."
Photo op: Davidson Glacier
You've never really experienced the unbridled beauty of nature until you've visited a glacial valley like Davidson Glacier—a 7.4 kilometre span of icy twisted amazement accessible by tour for hiking, kayaking and canoeing. The stunning formation finds its source in the Chilkat Range and along the Chilkat River, with 360 degree awestruck views.
Directions: The best way to reach Davidson Glacier is by adventure tour. Contact the Town of Haines for recommendations.
Photo tip: Bradfish shot the photos of Davidson Glacier in September, when the autumn leaves added an extra splash of colour that simply could not be duplicated at other times of the year.
"Come back to the same subject at different times of the year to get a unique and very different shot from the ones that you previously took," he said.