A North American tour
Riley and Karen Caton are on a journey of a lifetime, travelling to all the American states and Canadian provinces.
by Karen Kornelsen —
Riley and Karen Caton are on a journey of a lifetime. Their home is their RV, a 2006 Monaco Diplomat 40 DPQ nicknamed the Dip. In the three years since they embarked on this adventure, the couple from Washington State has been to almost all the states and half the Canadian provinces. They hope to visit the remaining 13 states by the end of 2015 as well as all the Canadian provinces, all the way to the Maritimes.
Riley and Karen are full-time RVers who not only search for geocaches every chance they get, but also volunteer for the National Park Service and perform small contract jobs as well.
"RVing gives us the flexibility to explore and go to all the places we've always wanted to see," said Karen. "This time next year we will most likely have completed all 50 states and most of the provinces. We definitely did some remodelling to the our RV to make it as comfortable as our home was."
Karen and Riley put up new window shades and valances, ripped out the carpet, put in new flooring, ripped out the extra sink and replaced it with a pantry, and removed the TV from the bedroom and changed it into a library for their books. With four slides, the Dip expands to about 12 feet, which gives them a lot of space. The motorhome originally had two sofas, so the Catons took one out and built individual work stations.
"Our goal to conquer North America was not our goal from the beginning," said Riley. "We became full-time RVers because we had been doing a lot of volunteer work in the national parks. We've been to about 13 different national parks around the West, working in the emergency services division, helping with the logistics for EMS, structural fire and search and rescue."
Riley was fire chief in Gretchen, Oregon, before he retired and Karen worked for FEMA. They still do contract work in their field, along with volunteering.
In December 2014 Riley and Karen were in Big Bend National Park in Texas volunteering once again. This was their fourth winter at Big Bend. They average three to fourth months of the year working and volunteering and then the rest—well, it's all fun and games, exploring and travelling.
This past summer, Riley and Karen took a trip to British Columbia and Alaska. They were gone three and a half months from the time they left the Lower 48.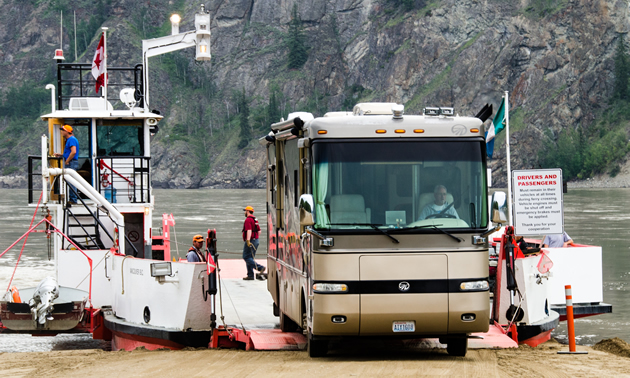 "The trip to Alaska took us into B.C., Alberta and up through B.C. to the Yukon," said Karen. "We went through Whitehorse and north from there to Dawson City. From there, we parked the motorhome and took our car and drove 450 miles of dirt road to Inuvik, way above the Arctic Circle. We then drove from Dawson City through Chicken, Alaska, and then on to Fairbanks. From Fairbanks, we parked the motorhome again and drove all the way to Kudo Bay, which is almost 1,000 miles round trip."
Riley and Karen then went south through Denali National Park, did some shopping in Anchorage and headed to the Kenai Pensisula. They spent about a month there fishing for salmon, halibut and clams—and just having a ball.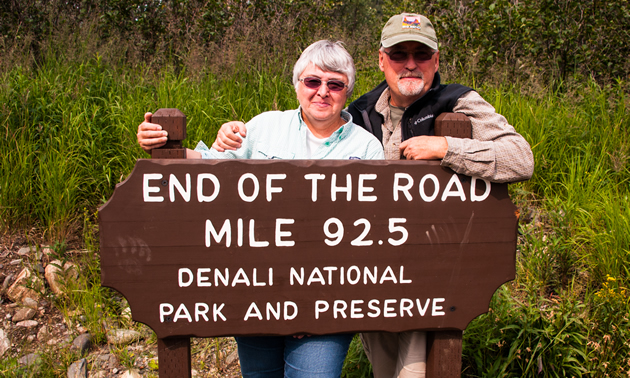 "The Kenai Peninsula is a fishing mecca," said Riley. "There's lot of people that go in the summertime, but since people are spread out through various villages and it's fairly distant from Anchorage, you can definitely find places to go and fish and not have anyone around you."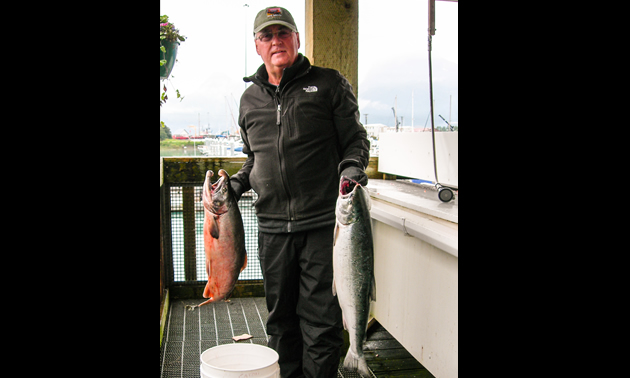 "I can't compare it to any other place in the States," said Karen. "It's totally unique. From Liard Hot Springs in northern B.C., every mile you go you can see a grizzly or black bear with cubs. Or driving up across the Arctic Circle into the Northwest Territories, crossing the tundra you see animals you very seldom see, such as caribou or muskox. There are so many different species of animals that you can only see in the far North. Then once you get above the Arctic Circle in the summertime, you have 24 hours of sunlight."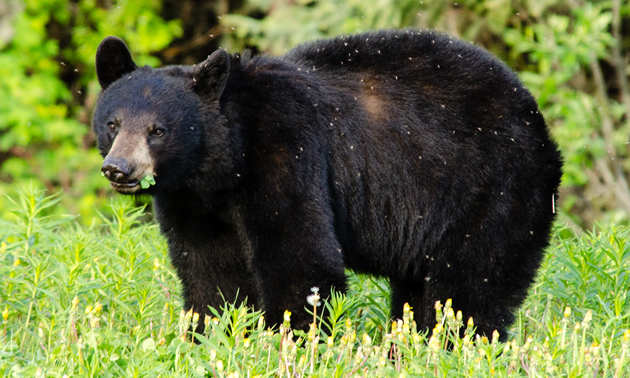 Journeying to Alaska can be a trip of a lifetime for some and Riley and Karen encourage people to be prepared.
"Make sure your motorhome or RV is prepared for the roads up there, as some of them are pretty rough," said Karen. "Also, be prepared: gas prices are much more expensive in Canada than the U.S."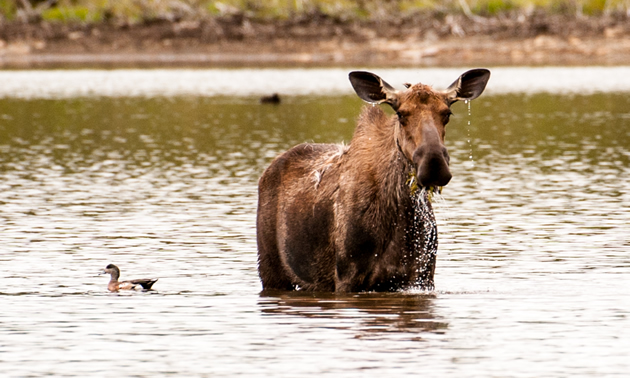 Riley found two books that really helped them explore Alaska. The MILEPOST: Legendary Alaska trip planner and Alaska travel guide really helped them with the highways, roads, ferries, lodging, recreation, sightseeing attractions and services along the Alaska Highway to and within Alaska, including Alberta, British Columbia, Northwest Territories and the Yukon. They also recommend The Traveler's Guide to Alaska Camping by Mike and Terry Church.
"They were both extremely useful to us," said Riley. "The second one is the best book for locating camp spots that we could take our 40-foot motorhome."
Riley and Karen obviously spend a lot of time together, living together, working together and travelling together. They both wouldn't have it any other way.
"We've been together 14 years and I guess coming together later on in life we knew exactly what we wanted and how we wanted to live our lives," said Karen. "We're teased because we are connected at the hip. If you see one of us, you usually see the other. We're really soul mates and live together without any issues."
Riley couldn't agree more.
"We are very compatible and can work on projects side by side as well," he said. "If we run into a snag somewhere, we just talk out the most logical solution to that snag and keep on going."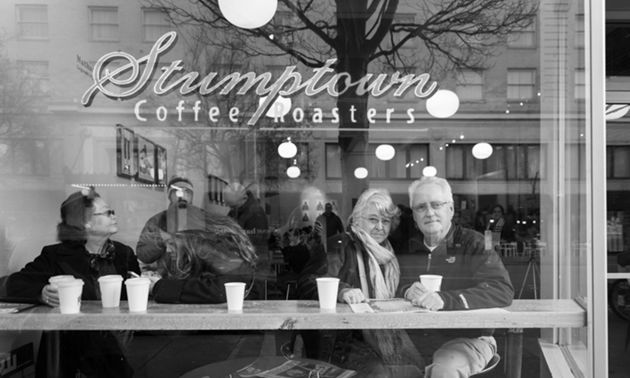 Riley and Karen originally committed to living on the road for three to five years. Their immediate plans after finishing their current stint at Big Bend is to finish their North American tour. Then in 2016 they may start looking for property. But as they say, it's very flexible at this point. They're on a journey of a lifetime.