10 must-see stops while travelling the Alaska Highway
Fill your Alaska Highway itinerary with these exciting highlights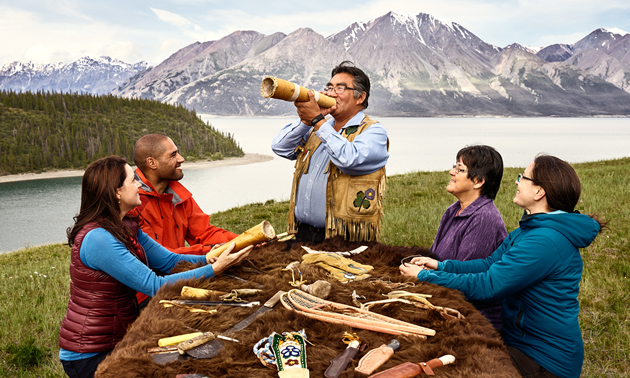 The Alaska Highway is in its 76th year. It was built in 1944 as part of the artillery trail the Canadian and U.S. governments used to transport weapons and machinery from Dawson Creek, B.C., to Delta Junction, Alaska (1,387 miles long [2,232 kilometres}). The first 987 kilometres (613 miles) of the Alaska Highway are in British Columbia, designated B.C. Highway 97 North.
During the winter, the area's tourism doesn't stop. Visitors come to see the Northern Lights or try their hand at dog-mush. Snowshoeing gives hikers a sparkling white version of the already beautiful scenery. Some people simply come to experience -40 C temperatures (-40 F).
"It can be anywhere from -20 C (-4 F) down to -40 C (-40 F) in the winter," said Paul Robitaille, marketing and events manager of the Klondike Visitors Association, who moved to Dawson City, Yukon, 13 years ago. "That's pretty usual for December. -40 C means clear skies and makes for a great time to take pictures. Everything seems more in focus. Maybe your eyes are frozen . . . but honestly everything looks so much nicer.
"The light and darkness is a spectacle to experience. December 21 we get two hours of sunlight. You're on solar power/time. You lose about a half hour per week. You become dependent on the sunlight that you're getting."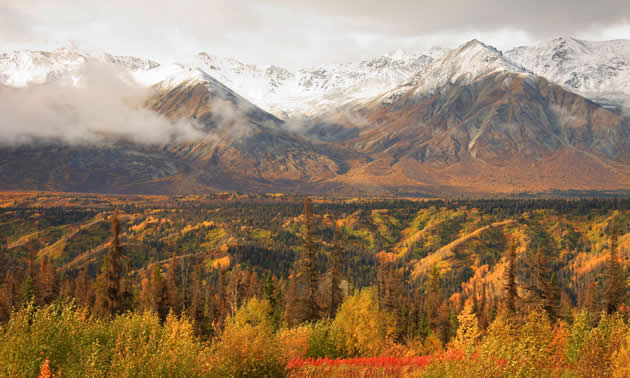 Jennifer Glyka, marketing specialist and media relations of Yukon Tourism and Culture, knows exactly what first-time travellers to the area should plan to see and experience.
Roadside wildlife makes the top of the list. The area is abundant with caribou, moose, Canada lynx, mule deer and fox. Amazing vistas like the St. Elias mountain range and ice fields alongside Kluane National Park and Reserve are a must-see. The park encompasses 17 of Canada's 20 highest peaks.
"Visitors can expect minimal road traffic," said Glyka. "Make sure to bring a lot of smokies and marshmallows as you'll love our many spectacular campgrounds!"
Her favourite thing about the Alaska/Yukon area is the Midnight Sun.
"It gives you so much time to explore and meet the friendly people and colourful characters along the way," she said. "The best experiences are often the impromptu ones."
Here are our top 10 sites for you to visit along the Alaska Highway:
1. The Sign Post Forest at Watson Lake. People have been bringing signposts from their hometowns from all over the world since 1942 and are still adding to the forest today. The Alaska Highway Interpretive Centre is close by and tells the story of the the highway and what went into its construction.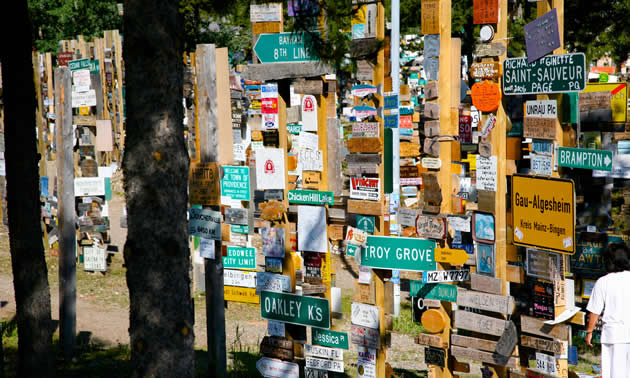 2. The Da Ku Cultural Centre and Pine Lake campground in Haines Junction. The centre is a cultural display of the Champagne and Aishihik people. Their culture is showcased through an immersive experience of exhibits, art shows, classes, programs and dancing spectacles. The campground, a short drive from the centre, has 42 sites, a boat launch, a kitchen shelter, a playground for children and an interpretive trail. The fee for a night's stay (and complimentary firewood) between May and late September is $12. The park is gated during the off-season.
3. A few days in Whitehorse are a must for any visitor looking to explore the kaleidoscope of year-round festivals, galleries, markets, First Nation celebrations and culinary experiences of Yukon. Whitehorse also has four micro-breweries and two distilleries . . . just so you know.
4. Emerald Lake—the most photographed lake in Yukon—is an essential detour via the South Klondike Highway to check out. The surrounding area has a hiking trail eight kilometres (five miles) long and is suitable for beginner- and intermediate-level hikers. There isn't much to do lakeside, but it is a great spot to stretch your legs and snap a photo. Visitors have said that this lake rivals any experiences had at Lake Louise, B.C.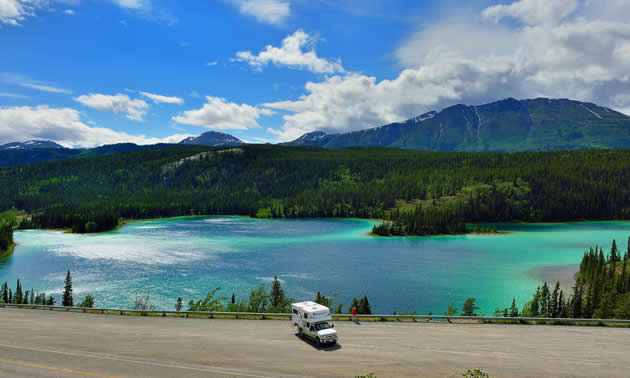 5. The vibrant community of Carcross, home to the Carcross Tagish First Nation. Visitors can check out the Matthew Watson General Store, filled with locally made souvenirs and gifts (it's also the best place to find ice cream). Going on a sled-dog excursion with Boreal Kennels, and experiencing history at the Caribou Crossing Trading Post, Carcross Railway Station, post office and history museum might be the best ways to enjoy what Carcross has to offer. The area is also home to Canada's only desert, Carcross Desert, which is also the world's smallest.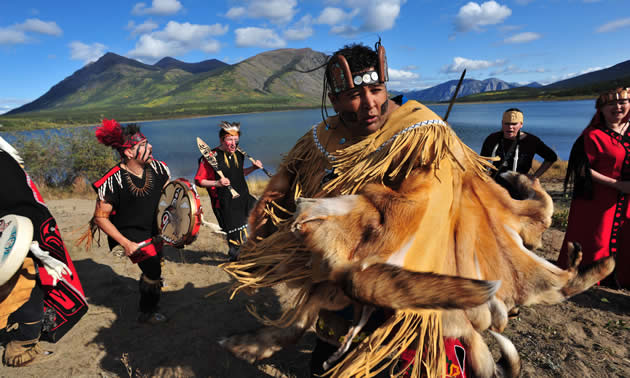 6. Liard River Hot Springs is a great spot to visit year-round—though it might be easier to take a sled with you during the winter to help carry your supplies. The hot springs' pools offer various temperatures just by moving from one part of the pool to another. The natural surroundings are as beautiful and rejuvenating as one would expect. The nearby campground offers RV sites that are well-maintained, but be prepared to camp without services or power.
7. Yukon Beringia Interpretive Centre of Whitehorse is right next door to the Yukon Transportation Museum, so stopping here is a two-for-one. The interpretive centre hosts events and activities, in addition to giving tours to visitors through the exhibit halls. The centre's theatre plays movies for all ages. This is the stop for you if megafauna and mammoth skeletons are your thing. Other exhibits include first peoples' artifacts, well-known artists' works and displays on Ice Age animals.
8. Kluane National Park and Reserve is home to Mount Logan, Canada's highest peak at 5,959 metres (19,550 feet). The Alsek River offers 250 kilometres (155 miles) of whitewater rafting opportunities for visitors feeling more adventurous. The Government of Canada's website has an extensive hiking trail guide of the area and what to expect on each trail. The excursions vary in length and skill level, so all hikers have a chance to tailor their own adventure to what suits them best. The park has camping, fishing, boating, flightseeing, rafting and mountain biking opportunities too.

9. The Tetlin National Wildlife Refuge in Alaska is a birdwatcher's paradise. The refuge encapsulates expansive forests, wetlands, tundra, lakes, glacial rivers and a mountain range and is a popular jumping-off point for migratory species of birds coming from and heading to Canada. Commonly seen birds include ducks, geese, swans, cranes and many species of songbirds. Some animals of a larger nature can been spotted too (caribou, mountain sheep, moose and creatures of that ilk).
10. Tok, Alaska, is thought of as "the sled dog capital of Alaska" and is situated a mere 161 kilometres (100 miles) from the Canadian border. The Mainstreet Visitor's Centre is a 7,000 square-foot log cabin where travellers can find information, souvenirs and rest from their long journey. Muklukland is home to the world's largest mukluk (a traditional Arctic aboriginal boot made of sealskin or caribou hide) and a one-of-a-kind park. The 18-hole mini-golf course and curiosity exhibit (think an old doll collection and a pack of run-down snowmobiles) are sure to amuse and delight all who visit.
For more information about the Alaska Highway and all the wonders it has to offer, check out Tourism Yukon's website.